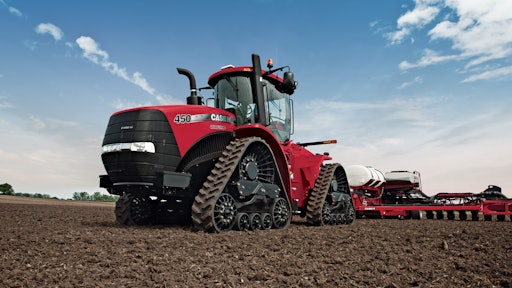 The unparalleled, proven technology of the Case IH Steiger Quadtrac will now be available in the new 2013 Steiger Rowtrac.
"Case IH extends its track technology leadership with the new Steiger Rowtrac, proving again that four tracks are superior to two in row-crop applications," says Mitch Kaiser, Case IH Steiger Marketing Manager. "Customers told us they wanted a Steiger Quadtrac with more flexibility for more jobs, while maintaining the power, performance and innovation they've come to expect. The Case IH four-track, positive-drive system is the only factory-integrated drive system of its kind in the world. It puts more power to the ground, improves traction and simplifies transport, allowing users to cover more ground in less time, even when field conditions are less-than-optimum."
Adaptability and Versatility
The Steiger Rowtrac will be one of the highest horsepower, tracked row-crop tractors in the market with the capacity to pull larger implements. It will have the advantages of Quadtrac technology for both primary and secondary tillage and field applications, including planting, side-dressing, fertilizing and specialty applications. In fact, the narrow track, with adjustable row spacing, will easily adapt to North American row-crop farming applications. Available in three models – 350, 400 and 450 – Case IH has a tractor to fit the needs of every farming situation.
More Power to the Ground

Four tracks transfer more power to the ground than two, and the Steiger Rowtrac will provide more options and greater flexibility for customers. With equal-sized, independent, oscillating drives on all four corners, farmers can get in their fields sooner, especially in adverse field conditions. The wheelbase has been extended from 154 to 160 in., so each track has more ground contact, resulting in better transfer of power to the ground. In addition, the unique design delivers less ground pressure, better traction and the most comfortable ride in the industry.
"Better traction helps reduce compaction by minimizing slippage on the soil surface," says Kaiser. "Compared to two-track systems, operators will see no ridging or berming in turns. In addition, each track drive oscillates up and down up to 10 degrees to maintain consistent ground contact no matter what the conditions. Not only will farmers be able to plant seed sooner, but the seed will have a better environment in which to germinate and develop strong root systems that extend down into the soil area, with better access to nutrients. Less in-row compaction translates to earlier emergence of crops and the opportunity for increased yields."
Although the Rowtrac suspension looks similar to that of the Quadtrac, it is uniquely different. On each end of the roller beam, a mount controls pitch roll and yaw along with some vertical load, and two mounts in the center handle the primary vertical load. While the tractor is oscillating in the middle, each track moves independently. The exclusive Case IH design fits in a very narrow undercarriage width for row-crop applications.
Greater Flexibility
The Steiger Rowtrac gives operators more adaptability and versatility for different cropping systems, with 20-inch, 22-inch, 30-inch and 40-inch row-crop spacing options, and the track width to suit many types of operations.
The undercarriage features a new advanced suspension system. Rubber "donuts" act like shock absorbers and keep the suspension from shifting from side to side, which helps the tractor remain accurate on the row. The new track suspension system allows for operation in a variety of row-crop planting, side-dressing, fertilizing, tillage and specialty applications.
The Steiger Rowtrac's architecture is designed with a small overall size and packaging in mind for excellent visibility and a tight turning radius, so the Quadtrac four-track, positive-drive system is highly maneuverable in the field. It also is very transportable on the road for farmers with large operations and several locations to manage.
Increased Efficiency
The Steiger Rowtrac provides increased traction with a narrow footprint to perform well in a variety of row-spacing applications. At the same time, the operator can maintain a narrow transport width for faster travel to the next field location, which shortens travel time and increases efficiency.
"Steiger tractors are famous around the world for superior power and performance, no matter what the conditions," notes Kaiser. "The new Rowtrac 350, 400 and 450 tractors continue that heritage with a convenient size and configuration to match every farm operation's high-horsepower needs.
"Thanks to a best-in-class engine, every Steiger Rowtrac delivers power and responsiveness, even in the most demanding applications," he continues. "With the unique Selective Catalytic Reduction (SCR) emissions system operating outside the engine, Tier 4 Case IH FPT high-horsepower engines burn an average of 10% less fuel than comparable Tier 3 models. Plus, oil-change intervals have been lengthened to 600 hours. This gives operators powerful, smart, simple technology to get more done with fewer inputs, while still providing the Efficient Power they need for maximum performance."
Like other Steiger models, the Rowtrac machines have Power Boost to provide extra power when needed with hydraulics, PTO, during transport and in other challenging conditions. New features provide even more flexibility: the 113-gallon-per-minute parallel flow hydraulic system for use with a three-point-hitch and PTO offers increased efficiency and adaptability for more planting and grain-cart applications.
In addition, the patented Rowtrac system uses independent, same-size tracks to deliver more power to the ground, so users experience less slippage with large planters and tillage applications. Operators can get more done with less horsepower.
The Steiger Rowtrac offers:
Best-in-class fuel economy and operating cost leadership with Tier 4 Case IH FPT engines
The industry's heaviest frame – welded using 1/2-inch-thick steel – to handle heavy tillage equipment
Superior hydraulics with a 113-gallon-per-minute flow to easily handle the largest planters and seeders
Unmatched Comfort and Convenience
Comfort is a high priority when operators spend long days in the field, and Case IH delivers, thanks to input from customers. The Steiger Surveyor cab is the largest, most comfortable cab in the industry on a row-crop chassis. The fully suspended cab gives a ride similar to what operators would experience in their cars on the highway. It's also the quietest, so operators can talk on their phones or multitask as needed to run their businesses. The industry-leading, 40-degree right-hand seat minimizes neck strain and fatigue, while the MultiControl Armrest keeps nearly all of the operation controls within easy reach.
The Steiger Rowtrac also will feature factory-installed Advanced Farming Systems (AFS) AccuGuide auto-guidance to increase efficiency and accuracy in terms of field applications.
"Factory-installed AFS AccuGuide is available for fully automated guidance in both forward and reverse," Kaiser explains. "This is the first integrated system to allow operators to automatically align with the next guidance line while backing up."
Maximum Uptime Delivered
Operators will appreciate having more productive days with the ability to get in fields faster and stay longer, thanks to these sensible conveniences:
Easy maintenance – all engine, transmission and hydraulic/axle fluids are serviced from ground level, and fluid site gauges are at ground level
Narrow undercarriage for simple maintenance and lower cost of operation
See-through bearing covers to quickly and easily monitor lubrication levels
600-hour oil-change intervals
More convenience and simplicity with the new flow-compensated, quick-connect hydraulic valves that automatically compensate for temperature and flow
No weighting or ballasting required
No flat tires or tire air pressures to check
"Our customers have multiple choices with the best line of four-wheel-drive tractors in the industry," states Kaiser. "Now they can choose four tracks or wheels on all Steiger models, from 350 to 600 hp. It's all in an effort to help our customers Be Ready to embrace the challenges and take advantage of the opportunities in agriculture – today and in the future."