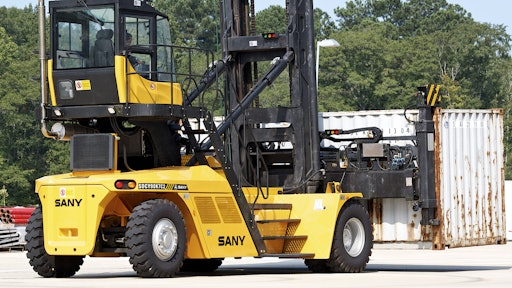 SANY America is bringing the global reach of SANY port equipment to North America by launching container reach stackers and empty-container handlers for port, rail and intermodal cargo use.
"SANY port machines are in use at some of the busiest ports and intermodal yards in the world," says Kyle Nape, vice president of global sales and marketing at SANY America. "We're bringing that substantial product experience into North America for the first time. We're starting with two important products, but plan to expand our offerings in the near future to serve an even bigger part of the cargo transportation market."
SANY America recently named Binder Machinery Company of South Plainfield, NJ, and Atlantic Machinery of Richmond, VA, as its first port equipment dealers.
Reach Stackers Move the Heaviest Container Loads
SANY reach stackers are perfectly engineered for container work in ports, and for loading rail cars, semi-trailers and barges. The SANY RSC45C2 Port Reach Stacker has a maximum hoisting height of 49 ft. 7 in. (15.1 m) and a maximum load of nearly 50 U.S. tons (45,000 kg) to efficiently move the heaviest laden containers.
The telescopic dual-beam top spreader features four hydraulically activated twistlocks for quick securing and release of containers. Indicator lights tell the operator when the spreader is seated properly, locked or unlocked. The reach stacker's long boom allows the machine to stack standard ISO containers three deep by five high for excellent productivity in a port environment.
SANY reach stackers have a patented movable counterweight for optimum stability that doesn't increase machine weight. The machines have advanced features that help ensure reliable operation. The system detects potential overload conditions and only allows boom retraction and lowering until load conditions normalize. If the machine continues to be off balance, the counterweight joins with the hook plate and integrates with the rear axle.
The onboard computer monitors nearly 800 diagnostic points 50 times per second and reports real-time operating conditions on the high-resolution in-cab monitor. The cab has expansive glass with no blind spots, increasing operator confidence and comfort. The cab power-drive feature slides the cab horizontally on tracks to optimize operator visibility. The power-shift transmission is smooth and easy to operate. The reach stacker is powered by a 335 hp (250 kW) Cummins diesel engine. It is designed to handle 20-foot to 40-foot ISO standard containers.
"SANY port equipment is designed and built for the global market," Nape says. "Operators in any port in the world will find SANY reach stackers and empty-container handlers offer easy operation, great visibility, maneuverability and impressive uptime."
The SANY reach stacker line includes attachments that extend the machine's capabilities for specialty loading and material handling. Attachments include an intermodal spreader, designed for quick and efficient loading and unloading of containers and trailers from rail cars, trucks and barges. The intermodal spreader features four hydraulically folding grapple arms that extend for locking onto trailers or ISO standard containers. The SANY tilting attachment is made for dumping sand, soil, aggregate or other scrap material from containers from as high as 36 ft. 3 in. (11 m).
The log stacker features 45 square feet of maximum gripping area and maximum lift height of 31 ft. 2 in. (9.5 m) for loading, unloading, stacking and feeding full length or cut timber at paper mills and wood terminals. The SANY tube stacker has a rugged hook attached directly to the boom for handling steel tube, bulk cargo, coiled steel rolls and other material. It has a maximum lift capacity of 55 U.S. tons (49,986 kg) and maximum lifting height of 49 ft. 7 in. (15.1 m).
Empty-Container Handlers Feature up to 70-Foot Hoisting Height
The SANY line of three empty-container handlers has a rated load of 21.9 U.S. tons (9,003 kg) and maximum hoisting heights of 70 ft. 3 in. (21.4 m), 62 ft. (18.8 m) and 51 ft. 2 in. (16.2 m), respectively. The three models can stack six, seven or eight ISO standard containers high, respectively. They can be configured for single or double stacking.
The container handlers feature a load-sensing hydraulic system that automatically detects load weight and delivers the exact power needed. High-torque 220 hp (162 kW) Cummins diesel engines provide quick, smooth operation. Kessler drive axles provide durability and long life under any work conditions.
Expansive cab glass provides a clear view to the front, above and sides. The in-cab monitor displays an array of performance information from the onboard computer, offering quick diagnostics and solutions should a fault occur. The cab features an intuitive, ergonomic layout with all controls within easy view and quick reach. Dual accelerator pedals help prevent foot fatigue. Electronic climate control keeps the cab comfortable regardless of outside weather conditions.
"SANY empty-container handlers are made with the operator in mind," Nape says. "Comfort, easy operation and machine durability mean maximum productivity."
SANY's move into North American markets comes as SANY Group invests in a global research and development center to expand production of equipment from cargo handlers to massive gantry cranes. SANY equipment is backed by the market and engineering experience of SANY Port Machinery, which is part of a sprawling manufacturing and research base being built at Zhuhai, China, just west of Hong Kong. Globally, SANY manufactures ship-to-shore container gantry cranes, rail-mounted gantry cranes, jib cranes, harbor wheeled cranes, container sideload trucks, bulk cargo sideloaders and a complete line of heavy forklifts.
SANY Group is investing nearly $1.6 billion USD to establish a world-class  manufacturing and research center for port equipment, marine engineering and shipbuilding machinery in Zhuhai. Ground was broken in April on the SANY Marine Heavy Industrial Park, located on the South China Sea. By 2015, the facility will encompass 9,000 acres and include nearly 3.5 miles of shoreline. Within three years it is expected to produce more than $4.7 billion worth of port and marine-related equipment per year.