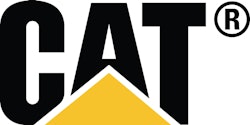 With the theme of "Building customer success for over 100 years," Caterpillar Inc. is showcasing its industry leadership at bauma China 2012, the International Trade Fair for Construction Machinery, Building Material Machines, Construction Vehicles and Equipment.
Located at the Shanghai Exhibition Center, the Caterpillar display covers more than 12,000 square meters, the largest trade show display ever for Caterpillar. Caterpillar's bauma China booth is showcasing nearly 50 machines, including six new products, as well as services and technology that can be widely applied by its growing base of Chinese customers. The company's products are also ideally suited to support China's 12th Five-Year Plan, which includes a focus on industrial developments for new roads, water and irrigation projects, railway expansion, new airports, urban construction and energy development.
"Caterpillar's products are playing a positive role as our Chinese customers take part in the on-going economic development in China by supporting infrastructure development, energy production and resources utilization," says Caterpillar Group President and Chief Financial Officer Ed Rapp, who will take on a new role of Group President with responsibility for Construction Industries beginning next year. "In China, we believe the long-term outlook is positive for the industries Caterpillar serves, and China remains an important emerging market for Caterpillar. Just as we have done in other regions of the world, we are focused on systematically building out our business model in China to enable customer success."
Win in China is one of the "Big 8" Imperatives in Caterpillar's enterprise strategy. In recent years, Caterpillar and its independent dealers have made significant investments to expand the range of products and components produced in China, increase and improve customer support services, and expand and enhance dealer coverage in every province.
"At Caterpillar, we are proud to call China home, and we continue to make significant investments to increase our facilities and grow our employee base in China," says Qihua Chen, currently General Manger of Caterpillar (Xuzhou) Limited. Chen will take on the newly announced role of Caterpillar Vice President with responsibility for China Operations beginning next year. "Caterpillar's products, services and solutions are well positioned to fit with China's drive for an environmentally sustainable economy and industrial upgrading."
Interesting facts about the Caterpillar exhibit include:
A unique Cat excavator built for the latest Bond film SKYFALL will be on display.
The "House of Brands" exhibit tells the story of brands owned by Caterpillar, which enables the company to provide the widest range of products, services and solutions to support customer success.
Three antique tractors produced in East Peoria, IL, in the late 1920s and early 1930s and still in running condition, will be displayed at bauma China.
A customer night will be hosted by Caterpillar and Cat dealers on November 28. More than 900 customers will gather together to share their success stories.