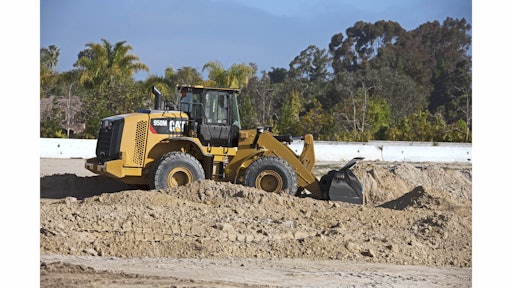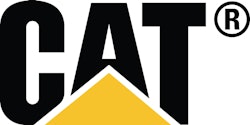 The new Cat 950M and 962M wheel loaders—powered by a Cat C7.1 ACERT engine meeting Tier 4 Final emissions standards—are significantly more powerful than their K Series predecessors and deliver 10% better fuel efficiency. The new models feature major drivetrain refinement, extensively redesigned hydraulic systems, new cab amenities, electronic payload measurement, Optimized Z-Bar linkage that combines optimized bucket performance with parallel lift, and a range of Cat Performance Series buckets and work tools. These innovative systems intelligently lower the average working engine speeds and reduce the overall system heat loads which result in significantly improved performance and fuel efficiency.
Performance and Fuel Efficiency
A proven system of Caterpillar developed electronic, fuel, air and aftertreatment technologies ensure that emissions control is transparent to the operator, does not interrupt machine operation and promotes reliability, high productivity and low operating costs.
With a net rating of 230 hp (171 kW), the new 950M produces 9% more power than its K Series counterpart, and the 962M, rated at 250 hp (186 kW), has 13% more power. Peak torque is up an average 18% for the new models, which means more useable power at the wheels. In addition, the new, productive Economy Mode automatically senses powertrain load and adjusts engine speed and torque for optimum performance and fuel efficiency.
The 950M and 962M use a new five-speed Cat powershift transmission featuring a lock-up clutch torque converter with lock-to-lock shifting (transmission gear remains locked during gear shifts), as well as the Cat single clutch speed shift system (which keeps the forward/reverse clutch engaged during gear shifts). Auto-shift features control the automatic shifting of the transmission and engagement of the lock up clutch. These two features working together maintain more effective and efficient torque flow through the transmission during gear changes, especially valuable when accelerating up ramps.
The redesigned axles feature on-the-go disc-type differential locks to improve tractive ability in these applications thereby increasing productivity. These models come standard with front axle differential locks which are manually activated by a switch on the floor. Optional fully automatic front and rear axle differential locks operate by measuring differences in axle speeds and require no operator intervention to activate. These disc-type differential locks will reduce tire scuffing compared to other traction aids further reducing operating costs for customers.
These machines have a new external caliper disc parking brake mounted to the input shaft of the front axle. Since they are external, they do not have the inefficiencies of enclosed, wet parking brakes due to brake discs running in oil nor is there any oil to change reducing fuel and maintenance costs. External caliper parking brakes are easily accessible for inspection and service.
Hydraulic Refinement
The 950M and 962M hydraulic systems have significant design changes and customer value improvements. The main hydraulic valve is now a mono-block with an integrated ride control section. The mono-block design reduces weight, has 40% fewer leak points and is common across all M Series models. Auxiliary third and fourth hydraulic functions can be easily added at the factory or in the field with the addition of a second remote valve. The new ride control system now has two accumulators enabling it to be more effective over a greater payload range, increasing productivity and operator efficiency due to a better ride.
Hydraulic system components on the 950M and 962M are protected by full flow and kidney-loop filtration. A filter in the hydraulic tank return line filters all of the oil returning to the tank. There is also a case drain screen for additional protection and finally, a separate kidney-loop filter with a finer micron rating which continuously filters smaller particles out of the system. This multilevel design ensures the hydraulic oil is clean and thoroughly protects the rest of the hydraulic system from contamination. A new thermal bypass valve has been added to improve hydraulic system warm-up.
Operator Comfort and Efficiency
Improving operator efficiency remains a key design goal for the 950M and 962M. Ensuring operators are safe, confident in the control of their machines, have a clean, comfortable and quiet operating environment with controls that are intuitive and low effort all contribute to lower operator fatigue and better performance.
In the cab, the new electro-hydraulic joystick steering is also available on the 950M and 962M featuring speed sensing force feedback for unparalleled comfort and control. A new multipurpose color touchscreen display dramatically simplifies the operator interface with machine controls, rear vision camera and the new fully integrated Cat Production Measurement system. Intuitive navigation with in-language text enables operators to modify certain machine operating parameters and monitor machine conditions at the touch of their fingers.
Sealed against moisture and dirt, the centralized switch panel with LED's provides reliability and ready access to frequently required functions, even while wearing gloves. The ISO symbols located on each membrane switch are molded all the way through to ensure the image will not wear off over time. The M Series maintains the "help" feature which explains the function of each membrane switch.
Focusing on operator efficiency, the control panel has been streamlined to include easy to reach highly utilized machine controls. The touchscreen display enables the relocation of some expanded functions while eliminating the need for a second switch panel for further simplicity and easy machine operation.
Stair-like steps and repositioned grab handles facilitate safely entering and exiting the M Series cab, as does the wider door opening. An available switch in the electronic service center allows ground-level unlatching of the door, which then swings open via a gas strut. Visibility is enhanced with new roll-formed ROPS posts, extended glass area on the door, and larger convex mirrors with integrated spot mirrors. Operator comfort and convenience is further ensured with automatic climate control, low sound levels and a vibration-dampening cab-mounting system.
Advanced technology with Cat Connect
To assist customers in improving jobsite efficiency and managing the 950M and 962M for optimum return on investment, Cat Connect offers LINK, PAYLOAD and DETECT technologies. Product Link helps fleet owners track locations, hours, fuel consumption, idle time, events and diagnostic codes by wirelessly reporting all via the online VisionLink user interface to help lower owning and operating costs. Cat Production Measurement delivers on-the-go payload weighing through the in-cab display so operators can work more efficiently and deliver exact loads with confidence. Operators can view payload weights at a glance to ensure precise bucket and truck loads, and can track daily loads and cycles from the cab. The payload system is integrated with VisionLink making it easy for site managers to monitor material movement from their office to manage productivity and meet daily production targets. The rear-vision camera enhances jobsite awareness, enabling operators to work with greater confidence and at a peak potential while keeping people and assets safe.