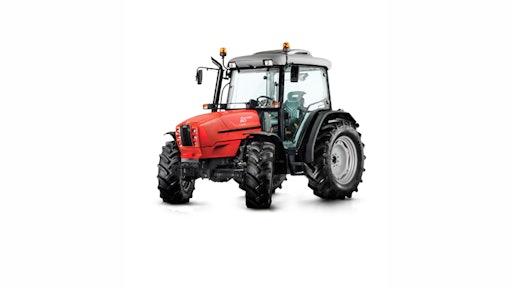 SAME renews the two cornerstones of its medium range: the new Explorer and Dorado have been announced. The Explorer, one of the most popular SAME tractors, now has features and breadth of range making it the ideal companion for every farmer looking for a versatile, comfortable and reliable tractor. The Dorado family, the SAME tractor with great maneuverability, is now available with new engines ready to meet the challenge of tomorrow's farming while respecting the environment.
The new Explorer has the Giugiaro Design style of the most recent SAME tractors and a completely renewed and more spacious cab: a pleasant, ergonomic and functional space. The quality of materials, excellent visibility and rationality of arrangement of the controls make this cab a benchmark in this segment. The ease of use and operational comfort also allow operator and machine to immediately work in harmony from the very outset.
In terms of engine, the SAME Explorer range is equipped with the latest generation engines from the FARMotion family. These three or four cylinder Tier 4 Interim compliant engines feature a common rail injection system from 75 to 109 hp which guarantee performance, reliability and low operating costs. Also the new geometry of the heads and combustion chambers help to improve the diesel combustion process, allowing the Explorers to fully exploit the potential of the engine and significantly reduce fuel consumption.
Certainly one of the major strengths of the new SAME Explorer is the breadth of the range, able to meet the specific needs of every farmer. The new Explorer is in fact available in three versions: from the more structured models, true heirs of the Explorer3, to the lighter and more compact models. Eleven models with six engines, each available with mechanical or Powershift transmission, to adapt to the different working conditions.
The new SAME Explorer is fruit of the experience of more than 130,000 machines sold since 1983. With this tractor, SAME offers today's farmers a modern tractor with a lot of experience behind it.
Completing the medium range, SAME is also introducing the new Dorado. Four models from 75 to 102 hp with a three or four cylinder Tier 4 Interim compliant FARMotion engine, replacing the high end of the Dorado3 and Dorado3 Classic ranges. Overall, the Dorado family, tractors appreciated for their versatility and manoeuverability in every situation, increases from eight to 12 models.