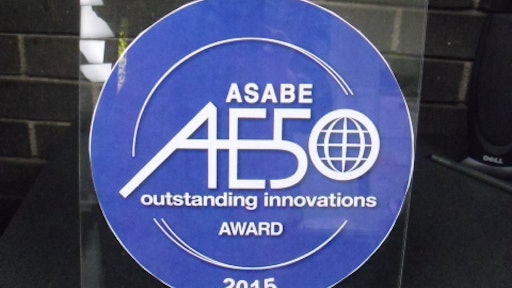 The Gleaner Super Series of combines has added to its long list of industry accolades. Gleaner, the industry-leading transverse rotary combine brand from AGCO Corporation, was awarded the AE50 New Product Award for the Perforated Cascade Pan found in 2015 S8 Super Series combines.
"Innovation is important in the agriculture industry, because its our most important tool in keeping up with ever-changing industry trends," says Kevin Bien, AGCO Brand Marketing Manager. "With grain farmers facing shortened harvest windows, many are forced to take the crop off early and at higher moisture levels. When developing the perforated cascade pan, we set out to help farmers manage that problem. We're honored that our quest to help farmers overcome harvest challenges has been rewarded with this important award."
The American Society of Agricultural and Biological Engineers (ASABE) sponsors the AE50, the only awards program of its kind, which celebrates product innovations in the areas of agricultural, food and biological systems. An expert panel of engineers selects up to 50 products for recognition. The award-winning products are those ranked highest in innovation, significant engineering advancement and impact on the market served.
Formal presentation of the AE50 Awards occurred at ASABE's annual Agricultural Equipment Technology Conference (AETC).
Across North America, farmers are being tasked with harvesting high-moisture, higher-density crops with equipment poorly suited for the job. The perforated cascade pan in the 2015 Gleaner S8 Super Series solves that problem, fostering greater capacity and lower loss levels.
The new perforated cascade pan in the front of the cleaning shoe is slanted at a 6-degree angle, and an additional 992 sq. in. have been converted into a pneumatic cleaning area. This provides additional cleaning capacity, and allows high-moisture corn and other high-moisture crops to fall through sooner after coming through the exclusive accelerator rolls, and reach the sieve and clean-grain cross auger faster.
The design change increases combine capacity by approximately 10% in high-moisture conditions. In addition, the air duct was moved forward 1.5 in. to redirect air to the crop that is falling through this area to the sieve and clean-grain cross auger. The entire cleaning shoe area is pneumatic, and provides a 12.8% increase in measurable shoe area, to 8,721 sq. in., increasing capacity and also lowering loss levels during side-hill operation.
In 2014, the Gleaner S8 Super Series was named the Farm Industry News Product of the Year at the National Farm Machinery Show, and also claimed the 2014 AE50 Award. In 2013, the Gleaner Super Series was named Agri Marketing Magazine's Product of the Year.
"There is a lot of passion among those who work on Gleaner combines," Bien says. "That pride translates to an incredible product that's constantly being improved. The industry has taken note of that, and rewarded Gleaner and AGCO with the types of honors a product like this deserves."
Companies in this article