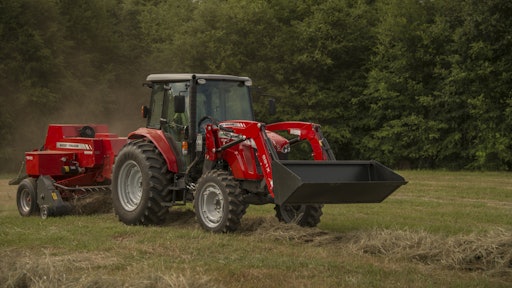 Massey Ferguson, a worldwide brand of AGCO Corporation, is naming this year the year of the utility tractor with the introduction of the Massey Ferguson 4600M Series. With models ranging from 70 to 99 engine horsepower, this series of utility tractors gives operators greater performance, durability and versatility to provide customers with cost-effective solutions they demand. The Massey Ferguson 4600M Series replaces the 4600 Series with a model lineup that includes the MF4607M, MF4609M and MF4610M ranging from 56 to 80 PTO hp. The new 4600M Series was designed with utility in mind and furthers its reputation for excellence in loader work, hay production, mowing operations and wide-ranging farm use.
"Hobby farmers and rural lifestylers are growing in numbers, and we've thought about all of their on-farm needs with the new Massey Ferguson 4600M Series," says Warren Morris, AGCO Massey Ferguson Tactical Marketing Manager. "With a new deluxe cab option that features standard air ride seat, LED lights and fender mounted hitch controls, this tractor provides comfort and ease of use for any application."
A tractor with versatility
Two transmission options allow customers to match control with their needs. They can choose between a standard 12x12 power shuttle transmission and an 18x18 with the optional creeper gear package. In addition, farmers can choose between 2WD and 4WD offerings.
The 4600M Series also comes equipped with a category II hitch and 540/1000 PTO. With a combined 3,300 or optional 4,400 lbs. in lift capacity at 24 in. behind ball ends, this tractor is capable of completing even the most demanding tasks.
The 4600M Series includes features to make operation and ownership simpler. With telescopic lower links, implement changes are easier and faster. Easy-access service points combined with intuitive electronic controls provide operators maximum uptime and performance.
Updated technology improves power management and lowers emissions
A Tier 4, three-cylinder engine from AGCO Power powers the 4600M Series. The engine features four valves per cylinder to improve airflow and enhance the fuel/air mixture.
"Following the same philosophy as AGCO's high-horsepower tractor engines, the MF4609M and MF4610M tractors utilize selective catalytic reduction (SCR) with diesel exhaust fluid (DEF) to treat the exhaust after combustion," explains Morris. "This keeps all components doing what they do best, and doesn't rob the engine of power and torque when it's needed the most."
Electronic engine management is incorporated into the power system with a high-pressure common-rail (HPCR) fuel injection system. The engine management system monitors every aspect of the engine's operation, resulting in optimum performance and lower fuel consumption.
Updated operator's station improves ease of use, comfort and visibility
Cab and platform models offer a new convenient and ergonomically designed console that incorporates engine RPM, rear remote and three-point hydraulic valve levers, PTO control and storage tray for improved comfort during any task at hand.
The 4600M Series optional deluxe cab allows operators added comfort and convenience. The standard air-ride seat brings comfort to long days in the field while the three-point hitch fender control makes attaching implements a simple task.
The deluxe cab option also includes a LED lighting package with rear defrost and wiper, giving operators increased visibility of the front and rear implements in all conditions.
The 4600M Series will be on display at the Farm Progress Show, September 1 to 3 in Decatur, IL.