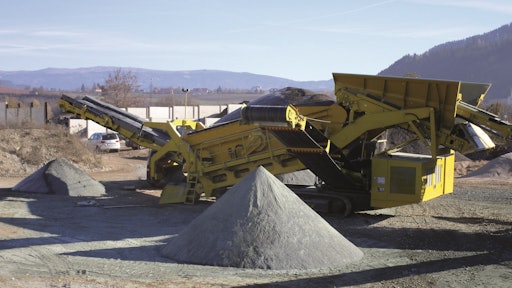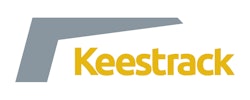 Keestrack is presenting a representative cross-section of its full product range at bauma 2016 in the form of six crushing and screening units deployable in mobile processing technology for recycling applications and aggregate production (Open-Air Area North, Stand 817/2). This includes current versions of proven models, as well as brand new plants by which the international manufacturer is showcasing even more innovative solutions, aiming to set new standards in the mobile sector.
Redefining mobile processing
A high level of mobility on-site and between deployments, considerable ease of operation and maintainability and superior cost-effectiveness have for many years been the guiding principles in cross-technology development of mobile processing technology at Keestrack. Long and rugged crawler track units and statically optimized frames and superstructures facilitate rapid and simple positioning or implementation of the fundamentally support-free operating crushing and screening unit. Especially in the medium output range between 250 and 300 t/h with frequently changing construction-site deployments, Keestrack plants lie primarily within transport weights and dimensions not requiring authorization, guaranteeing operators good machine performance thanks to a high level of flexibility and low transport costs.
All Keestrack machines are finished to a high degree (including powder lacquering) and the sophisticated inclusion of sensitive components, such as extensive steel casing for all hydraulic circuits. Daily maintenance, machine adjustment or troubleshooting are facilitated by easily accessible service points or specific pivoting/lifting devices on belts or transfer points. Modern, specially adapted Relytec-SPS systems control and monitor all operating functions reliably. Keestrack is now offering the option of GSM/UMTS-supported remote monitoring with GPS satellite positioning for all its machines, permitting real-time access to the machine data and functions. Keestrack's own web portal enables the convenient management of machine and location data and the operational recording of operating sites (geofencing).
Keestrack's offering of economically efficient and environmentally friendly alternative drives are currently state of the art in the segment of track-mounted processing technology of up to 60 tonnes: Today, a total of seven series of crushers, screeners and track-mounted stockpile conveyors have modern "ECO FS" diesel drives with efficient load-sensing hydraulic modules for power units and crusher functions. According to Keestrack, these generate potential fuel savings of approximately 30% over conventional drives. Currently five screening plants, two stockpile conveyors and two crushing plants are also available in a diesel-hybrid "ECO-EP" version with a diesel generator and electrical operating gear, or in an "ECO-EP+" version with an additional mains connection ("plug-in"). While the fuel savings of the ECO-EP package compared to conventional machines are approximately 53% (internal versus ECO-FS: approximately 33%), the ECO-EP+ machines save up to 79% in all-electric operational mode compared to conventional diesel-fuelled machines (versus ECO-FS: 70%). If the clearly lower maintenance costs compared to diesel drives are factored into this, the moderate additional costs of the ECO-EP drive packages will pay for themselves very rapidly – particularly as the flexibility of all plants as a result of which the potential on-board diesel drive is not diminished.
Keestrack is now also taking the constant expansion of its model offering in mobile processing technology into consideration with a new model nomenclature, to be launched at bauma 2016. Instead of the traditional model names, a transparent system of letters and numbers, referencing individual product families and suitable machine combinations within the Keestrack offering reflects their capacity. In that light, the code for track-mounted jaw crusher is now "S", and the family of crushers are categorised by jaw crusher "B", cone crusher "H" and impact crushers "R." The designations of the mobile screening plants will switch to "C" for heavy-duty screening units and "C" for the Keestrack production-classification units.
Crushing in all performance levels
Keestrack will be presenting proven mobile crushers at Munich as well as in particular further development and new high-end high-capacity large-scale models and the production of high-quality end-products. With transport weights of less than 30 tonnes, jaw crusher Keestrack B2 (former Argo) with a jaw width of 1,000 mm and the crusher unit Keestrack R4 (former Destroyer 1011) with add-on screener and oversize material recycler again set industry standards in compact performance and/or high flexibility and efficiency with the most diverse of source materials.
This also applies to the Keestrack R8 top crusher unit (former Destroyer 1313), that will be presented in Munich as a highly productive mobile solution in the output range of 450 t/h. As is the case for all Keestrack crusher units, the heavy construction of the 1,250 mm wide rotor of the R8 and its four impact bars (diameter: 1,267 mm, weight: approximately 6,100 kg) and a specifically larger crushing chamber for high crushing capacities at a very smooth operation and a long service life of the tools. The standard active double-deck pre-screening with crusher bypass optimizes the crushing result and minimizes wear and tear. The machine with a double-deck add-on screening unit and oversize-grain recirculating conveyor will also be presented in Munich. The optional equipment permits the production of three final grains via conventional removable screening media. Large-scale screening surfaces (each of which are 4,500 x 1,500 mm) and widely projecting stockpile conveyors help avoid frequently occurring bottlenecks of bolted-on screeners that are too small, leading to markedly declining production rates. As one of the few manufacturers in this performance segment, Keestrack is offering the approximately 70 tonne R8, with a hinged four-axle dolly for transporting the similarly compact large machine by trailer (transport width: 3.00–3.20 m; length 16.70–17.80 m; height: 3.67 m, including dolly: 4.00 m) in the 49.5 tonne basic version – with all the add-on options, including an overbelt magnet.
Keestrack is announcing its new track-mounted cone crusher H4  (transport weight 35-50 t) as the first of its kind in the world. At the heart of the model designed for high-value secondary or tertiary production in the 120-200 t/h performance range is the proven cone crushing technology of a world-renowned supply partner, with whom the company is working closely to optimize its machines for deployment in mobile situations. According to Keestrack, a pioneering factor has been the advanced solutions in crusher control and monitoring systems, directly impacting output capacity and product quality. As the successor to the Galleon Series, the Keestrack H4 was given a completely new frame design, enabling the incorporation of efficient pre- and post-screening units and also the use of innovative drive technologies. For example, the Keestrack H4 is the world's first mobile cone crusher with a highly efficient three-deck post-screening module with an oversize material recycler for the production of three high-grade end products in one pass. Keestrack is offering a choice of three economical drive combinations: Direct diesel drive of the crusher with electrical or electro-hydraulic peripherals (conveyors, screen units, etc.) or the fully hybrid/"plug-in" version with similar electrical crusher drive via on-board diesel generator or mains power.
Highly flexible screening technology
The new Keestrack C8/K8 track-mounted large-scale screening unit with expansion-shaft screening technology was first presented some months ago at Belgium's Matexpo trade fair, and is now be featured for the first time at bauma. The specially adapted BIVITEC technology from Austrian development partner Binder + Co. guarantees in combination with the large screening surfaces of the double screening unit (2 x 6,000 x 1,900 mm) and a very broad area of application in the economic recycling of various waste materials (glass, wood, slag etc.), the processing of materials difficult to screen that have high basic moisture levels, or in the production of large volumes of standard mineral products (up to 600 t/h). By providing different versions of the double screening unit – upper/lower deck: Flip-Flow or upper deck: Circular vibratory screen, bottom deck: Flip-Flow – it is possible to process, for example minimum grain sizes of < 2 mm efficiently. If the linings in the upper-deck circular vibratory screen are changed, the unit can also be directly deployed behind a crusher or for the processing of hot materials (slag, substances containing tar, etc.). The transport weight of the Keestrack K8 is 45.4 tonnes (B x H during transport: 3.20 x 3.60 m) including the 12 m³ feed hopper, overband magnet (option) and two side belts. Rapid on-site set-up times make even shorter-term construction-site deployments of the efficient large-scale machine worthwhile.
The comprehensive Keestrack range of track-mounted heavy-duty screening machines will be represented in Munich by the Keestrack K4 (former Novum). With a 4,200 x 1,500 mm double screen box, the compact machine offers one of the largest screening surfaces on the 30-tonne class and processes up to 200 t/h. As with all Keestrack machines, the K4 can be adapted to individual customer requirement, making it an economical solution for the sorting/grading of recycling materials or the production of defined grain sizes at building sites or in extraction operations.
The new mobile Keestrack D6 drum screen for organic application will also be presented for the first time at bauma 2016.