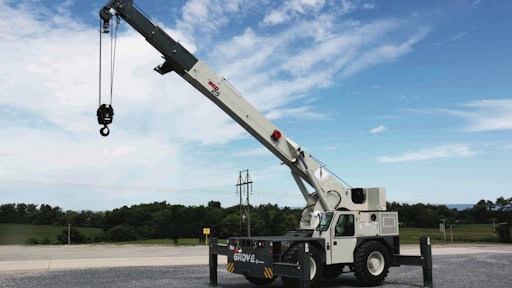 Grove is refreshing its line of carrydeck cranes, rolling out a whole new generation of Tier 4 Final machines that comply with North American emissions standards.
"These new models set the standard for carrydeck cranes moving forward," says Justin Pilgrim, Manitowoc's Global Product Director for Boom Trucks & Carrydeck Cranes. "They have the latest emissions systems for cleaner operation and will offer many improvements aimed at increasing our customers' bottom line."
New cranes from the carrydeck line will begin with the naming GCD, reflecting Grove carrydeck. A number that represents the capacity of the crane in U.S. tons will follow.
The first new Tier 4-compliant carrydeck crane will be the GCD25. This crane is available to the North American market immediately. It features a Cummins QSB4.5L Tier 4 Final engine.
The 25 USt capacity GCD25 features a best-in-class, four-section 71 ft. boom, with an optional 17 ft. boom extension. It has four-wheel drive and four-wheel steering capabilities. A four-position pivoting boom head enables the crane to work in situations that require low head clearance.
The crane is very easy to transport, weighing in at a best-in-class 22.7 USt (45,465 lbs.). Its out and down outriggers can be set up in several distinct modes to meet a wide variety of job site requirements. Maximum tip height on the crane is 95 ft.
"Throughout the remainder of 2016 and early 2017, we will be launching new carrydeck cranes for each class that we offer these cranes in," Pilgrim says. "This new generation of cranes, with their best-in-class features, modern efficient hydraulics and simple operation will not only help customers improve their return on investment, they will leave a much lighter footprint on the environment."