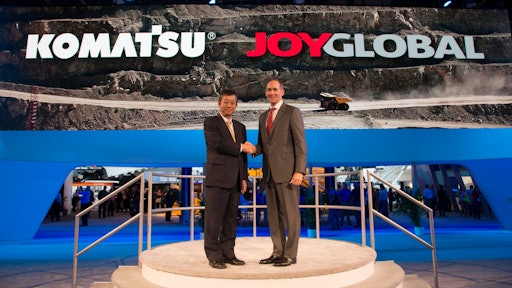 Tetsuji (Ted) Ohashi, President and CEO of Komatsu Ltd., and Ted Doheny, President and CEO of Joy Global Inc., met at MINExpo INTERNATIONAL 2016 in Las Vegas. Both companies had a major presence at this year's show, the premier exposition of mining equipment and services in the world.
Komatsu and Joy Global in July announced an agreement in which Komatsu will acquire Joy Global. During their meeting Monday, September 26, Ohashi and Doheny reaffirmed their commitment to pursue new innovations that drive customer benefits after the acquisition is complete. The companies are working to finalize the transaction by mid-2017.
"Our customers are sharing very positive feedback about the agreement. Some have approached us at MINExpo to congratulate us on our decision," Ohashi said. "We are working closely with Joy Global and relevant authorities to move the process forward."
Doheny agreed, noting industry recognition of the complementary nature of the two companies' product and service offerings.
"Many of our customers and other business partners see the benefit of combining companies: a broader offering of products, systems and solutions across a wider scope of mining and construction applications," Doheny said. "Both companies believe in having the best products, direct service, being operationally excellent, and having the best people in the world."
Joining Joy Global with the Komatsu Group will offer several benefits to customers, including:
A broader line of industry-leading mining and construction equipment for drilling, earthmoving, loading and hauling systems and solutions for both underground and surface mining. Joy Global's best-in-class rope shovels, for example, pair well with Komatsu's best-in-class large electric dump trucks.
Enhanced global customer support through the companies' mutual commitment and expertise in direct sales and service directly connected via embedded personnel in the mines, and electronically connected with world class fleet management systems.
"The synergistic collaboration between the companies will drive our innovation and enhance our capacity to provide quality products and solutions that improve the safety and productivity of mining operations," Ohashi said. "We will together strive to become an even better, more invaluable partner for our customers."
"The combination of two world-class companies offers exciting opportunities to enhance and expand the solutions and services we provide customers," Doheny said. "With strengthened capabilities and a continued focus on solving our customers' toughest challenges, we look forward to working together to advance the mining industry."