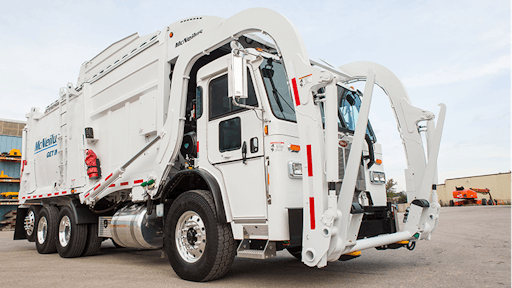 McNeilus Truck & Manufacturing Inc., an Oshkosh Corporation company, announces a strategic partnership with Boughton Engineering of Wolverhampton, United Kingdom, that will reintroduce the McNeilus front loader product line to the U.K. Under the agreement terms, Boughton will mount, finish, market and support McNeilus front loaders in the U.K. The first McNeilus units will be completed in early 2017.
"We're excited to announce this agreement with Boughton Engineering, re-opening important new markets to McNeilus' leading line of front loader refuse vehicles," says Christopher Zuniga, Senior Director of International Sales and Operations for the Oshkosh Commercial Group and McNeilus. "McNeilus offers top-quality products that are known for durability and reliability. Boughton Engineering has broad industry expertise and an excellent sales team and after sales support. This is a true win-win for all parties involved, especially for refuse haulers in the U.K."
Boughton Group Managing Director, Richard Skan says, "We are delighted to have concluded this agreement with McNeilus and we look forward to developing our close commercial collaboration. The McNeilus front loader product line is a perfect strategic fit with our established waste handling products, and this will enable our companies, together, to support our customers with a significantly stronger offering."
Boughton Group Sales and Marketing Director Steve Price adds that "the McNeilus front loader product line meets some special requirements and has a particular place in the fleets of some of our major customers. The machine is well-liked and proven in service both here and in other world markets. Bringing Boughton and McNeilus together to fulfill this market requirement not only makes a compelling business case but gives our customer base the knowledge and confidence that two leading players in the industry will be working together to deliver it."
McNeilus front loaders include a broad range of body capacities and feature innovative designs and proven technologies that deliver strength, reliability and maximum payload. For the U.K. market, these front loaders are expected to be used primarily for commercial collection, but McNeilus vehicles are engineered for commercial or residential applications. Boughton also displayed more information on the McNeilus front loader rollout during the Resource Waste Management exhibition at the National Exhibition Center in Birmingham, England.