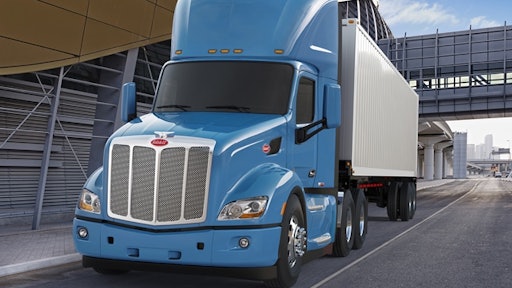 Peterbilt Motors Company announces it will exhibit during the 2017 Mid-America Trucking Show (MATS) in Louisville, KY, in March 2017, showcasing its latest products and services for the tens of thousands of expected attendees.
"The Mid-America Trucking Show allows Peterbilt to spend quality time with customers and drivers while exhibiting our latest offerings," says Darrin Siver, Peterbilt General Manager and PACCAR Vice President. "MATS is an outstanding venue for Peterbilt to thank the industry and interact with the many men and women who own, operate or are champions of our products."
Peterbilt says it will have a significant presence at the show. Its exhibit space will include the Model 579 EPIQ's latest fuel economy enhancements and new day cab configuration, SmartLINQ remote diagnostics technology and a special display for the Red Oval pre-owned truck program.
Peterbilt's Innovation & Class tour trailer will be located just outside the exhibit hall, featuring numerous displays and interactive features, including a driving simulator and an augmented reality demonstration that puts the user in a virtual driver's seat with the latest in-cab technologies.
Additionally, Peterbilt is the truck sponsor of the annual Paul K. Young Memorial Truck Beauty Championship, which will include a new "Best Peterbilt in Show" category with awards for first through third place.
2017 MATS is scheduled for March 23-25 in the Kentucky Exposition Center.