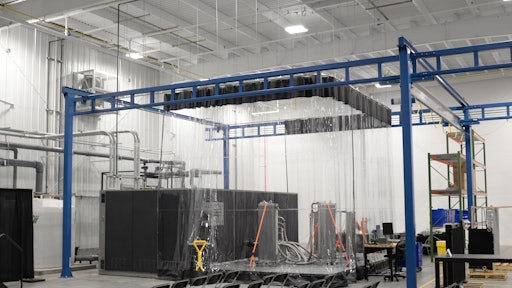 On February 21, AKG of America Inc. opened its new research and development (R&D) center at the company's facility in Mebane, NC. With this new expansion, the company will be better able to serve customers in North America.
"We wanted to become a more comprehensive and timely testing resource," said Jeff Lindgren, President, AKG of America during the center's ribbon cutting ceremony. "[It will] also help us develop more innovative products for our customers and the markets they serve."
Up until now, the company has relied on third party resources or its facilities in Germany for testing and validation. However, by now having those capabilities in-house AKG will be able to offer customers shorter lead times. "It's going to allow…a local basis for local customers, provid[ing] customers what they need in a timeframe that fits their schedule best," said Lindgren.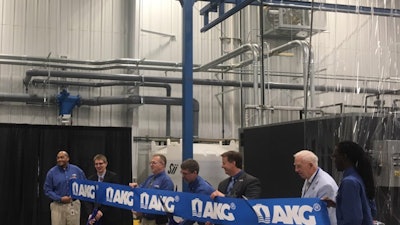 Hartwig Pietzcker, owner of AKG Global, said the North American operations have experienced sustained strong growth over the last several years. Because of this, now was the right time to make an investment in increasing the North American operations' capabilities. "This will also ensure we can stay on the leading edge of new product development," he said. "North America has all the tools for continued growth."
The new R&D center will enable AKG not only the ability to test products for customers, but also validate its products in order to optimize them for customers' ever-changing requirements. Lindgren said one of the most important aspects is that the R&D center will allow the company to stay ahead of its competition. "In this world of continuous improvement, if you're not moving ahead aggressively, you're not standing still, you're falling behind. And we are not going to let ourselves fall behind. We're going to stay ahead of the competition, offer the best products, best solutions for our customers."
New state-of-the-art capabilities
All of the equipment in the new R&D center is aimed at learning how AKG's products are running, said Matt Rankin, Director of New Product Introduction. Destructive testing will be conducted through the inclusion of a pressure cycle test stand and a new thermocycle test stand, as pressure and temperature differentials are the aspects which most affect the company's products, and ultimately lead to their failure. "We want to learn how to predict that lifetime and extend it through product developments," he said.
Designed by AKG engineers, the thermocycle test stand runs a 50/50 mix of water and glycol through the coolers to test thermal loading. Over 1,000 amps of power was installed into the stand, enabling up to 250 gpm (946.4 lpm) of test fluid to be run through the products being tested. And it is capable of testing temperatures from -20-120 C (-4-248 F).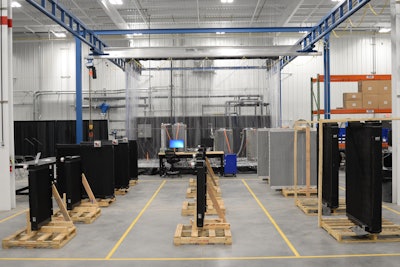 Rankin said one of the unique aspects of the test stand is its ability to test up to six cooling units at a time. "Being able to test multiple samples gives us a way to be more cost effective by combining tests that have similar parameters, [and] also gives us the ability to test more samples [for] better statistical results to give our customers."
The ability to test multiple units at a time will help the company reduce testing time as tests for different customers can be run simultaneously. For instance, during the opening ceremony for the R&D center the stand was running tests on two manifolds for one customer, and two oil coolers for another. Since both had the same flow rate and temperature profile they could be tested at the same time whereas in the past it would have required separate tests for each customer. For a 10,000 cycle test—which is typical for this application—a single test would take about 10-12 days to complete, a total of about a month for the two customers.
AKG will also have the ability to simultaneously test products which do not have the same flow and temperature rates. And due to the power built into the test stand, it may be able to lower the number of necessary test cycles to further reduce testing time.
Having the ability to test more than one unit at a time will also enable AKG to do comparison testing with other products in the market in order to evaluate and optimize its own.
Each test unit is wired with strain gauges to monitor how its material is stretching and contracting; this data is combined with the known material parameters to predict when a unit will fail. Rankin said while the company has a relative idea of where the weakest points are, testing in this manner confirms them.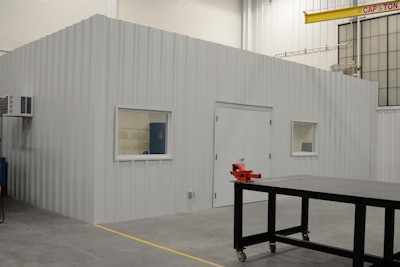 The strain gauges are applied to each unit being tested in a new enclosed laboratory environment in the R&D center. This ensures no contamination of the gauges occurs, as they are very sensitive. Typical applications have 12 strain gauges installed on each test unit, with one located at each corner and the others at various other points.
At each point where there is a strain gauge, there is also a thermocouple placed near it to collect temperature data. Once the gauge and thermocouple are installed, a high-temperature curing adhesive is applied to secure them to the unit, and it is then cured in an oven also located within the R&D center. Wires are then attached and connected to a data acquisition unit at the test stand to begin collecting data during testing. "As the metal expands and contracts, you're stretching or contracting the wire inside the gauge and it's changing the resistance of the wire," explained Rankin. "We're measuring the resistance of the wire, with the voltage running through recording that to useful information for the engineers."
By now having all of the necessary test stands and laboratory environments within one location, it will make it easier for AKG engineers to collaborate and conduct their R&D efforts in an efficient manner.
The company also plans to expand its R&D capabilities over time by adding more test stands to the center. Rankin said the next one planned is a charge air cooler test station which will operate at very high temperatures and pressures in order to test turbocharging cooling units. He said the company hopes to have that installed by the end of 2018.
Companies in this article