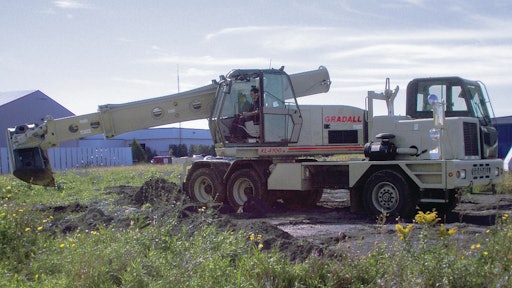 In the mid-1990s, Gradall Industries installed its first MTU Series 900 diesel engine in its XL series excavators. Today, MTU is Gradall's sole supplier of EPA-certified Tier 3 engines. The close partnership between the two companies is also aiding Gradall's transition to machines that will meet the EPA nonroad Tier 4i emissions regulations that take effect in 2011.
Gradall was originally attracted to the MTU Series 900 engine family because it covered a power range that matched the needs of Gradall's excavators. "They recognized that the MTU Series 900 engine had the right range of horsepower, the right torque, control features and price," says Duane Warden, C&I Sales Manager, MTU Detroit Diesel. "Another key factor in their decision to go with MTU was the quality of our Mercedes-derived engine that equaled the quality of their excavators."
Overall design provides versatility, efficiency
The modular design of the Series 900 makes it very easy to match engine configurations to the task. Based on a standard cylinder displacement of 1.06 liters (65 cubic inches), different horsepower and torque capacities can be achieved by grouping the cylinders as an inline four or an inline six. "Further variations in output are determined by the fuel delivery system and the engine control module. Another advantage of this design is superior fuel efficiency," says Warden.
According to Greg Siders, Gradall's director of supply chain, "Our customers gave us very positive feedback on the MTU engines from the very beginning." Over the years, the reliability of the MTU engines has been excellent, with very few issues occurring in the field, he says. Siders also notes that MTU Detroit Diesel has a strong distribution network, which ensures that excavator customers are never far from quality service.
Different engines for different excavators
The four-cylinder version of the MTU Series 900 ranges from 101 hp to 173 hp. The 173 hp version is used to power Gradall's off-road machines, which are built with either rough-terrain wheels or crawler tracks. With a top speed of about 4 mph, the crawler excavators are usually hauled to a work site on a lowboy trailer. Depending on the workload the wheeled rough-terrain units can be hauled or driven at up to 20 mph.
Gradall's larger highway-wheeled series uses the inline six-cylinder version of the MTU Series 900 engine, which produces 201 hp to 322 hp. These models can be driven to the job site and even cruise down the highway at 55 miles per hour. In this excavator series, the engine provides power to the wheels as well as to the hydraulic pumps that power the telescoping-boom and other accessories.
Gradall excavators compete with traditional knuckle-boom excavators in both the road construction and the contractor markets, but the high-performance telescoping-boom confers many advantages that make these premium machines attractive, says Siders. "Knuckle-boom excavators can only dig in two dimensions," he explains, "whereas the Gradall can operate in three. For example, if you're trying to dig a trench 35 feet to the right and 35 feet to the left you can do that without having to move the machine. In addition, our crowd force is greater and remains constant throughout the stroke giving consistent power and better controllability when doing surface grading."
Excavators typically operate about 1,500 hours per year, and the MTU engines are expected to last for the life of the machine, according to Siders. "These machines usually last from 10 to 12 years, on average," he says, "and the engine will never have to be overhauled."
Adapting to changes in emissions regulations
Beginning in 2011, the higher-horsepower diesel engines used by Gradall's large excavators will be required to meet EPA Tier 4i regulations for reduced nitrogen oxides (NOx) and particulate matter (PM). Meeting these standards will require the six-cylinder engine to be equipped with a selective catalytic reduction (SCR) unit that uses a catalyst and liquid urea (also known as diesel emissions fluid, or DEF) to convert NOx to non-polluting elemental nitrogen and water.
To help Gradall incorporate the new engine package into the excavator chassis, MTU delivered an SCR-equipped, Series 900 Tier 4i engine in mid-2010. The changing emissions regulations have created engineering challenges for both MTU and Gradall, but with a long-term partnership built on product performance, reliability and quality, the next generation of excavators will be better than ever.
Companies in this article