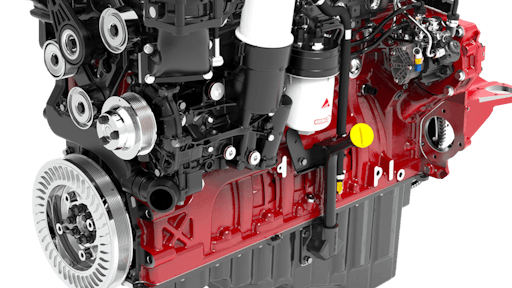 ACGO Power
AGCO Power will present its latest powertrain solutions, including the high-speed model of the new CORE75 engine, during CONEXPO-CON/AGG (CONEXPO) in Las Vegas, March 14 to March 18 at Booth S64821 (South Hall, first level).
A Step Toward Alternative Fuels
AGCO Power revealed a new line of engines last October called the CORE. Delivering improved performance and fuel economy, the CORE engine family is designed with future fuels in mind. Visitors in Las Vegas will be able to see a new version of the 7.5-liter CORE75 hydrotreated vegetable oil (HVO) engine live for the first time.
High-Speed Version of the CORE75
This engine's torque and fuel economy paired with improved response make the CORE75 an efficient fit for most construction or industrial applications. The high-speed CORE75 offers 12% more power compared to the previous low-speed variant (299 hp / 223 kW), a wider speed range up to 2,100 rpm, 24 voltage electrics and a PWM-controlled alternator as an option. The CORE75 also has improved fuel economy – up to 0.309 lb/hph (188 g/kWh).
A Platform for the Future
The CORE engine family is designed with alternative fuels in mind, the CORE75 is 100 % HVO-compatible and in the future can use alternative fuels such as hydrogen, methanol and biogas with relatively minor design and component changes.
New Engine on Display
In addition to the CORE75, the 8.4-liter AGCO Power 84LXTN engine will also be exhibited. This engine can operate on diesel or HVO. More power, more torque and a simplified structure help ensure effective performance in tough conditions.
Latest Exhaust Line Solutions Help the Move Towards Zero Emissions
Proventia is co-exhibiting at the AGCO Power booth. The team will display its exhaust line solutions. Experts from Proventia and AGCO Power will be available for the full trade show at Booth S64821 in the South Hall.
Learn more from the AGCO Power press release.