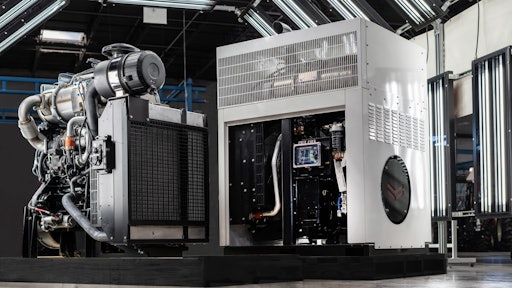 Yanmar American Corp.
Yanmar, a provider of power solutions and industrial machinery, will introduce equipment from its new power range and share the company's vision for a zero-emission, resource-recycling future during CONEXPO-CON/AGG (CONEXPO) 2023. Exhibiting in the South Hall, Level 2 at Booth S84014 together with Yanmar Group companies ELEO and HIPOWER SYSTEMS, Yanmar America will feature the company's extensive product portfolio, and share the company's current and future vision for power equipment.
"Yanmar is committed to responding to the challenges of the future with superior power that meets the needs of today's customers, while developing new products and technologies that take advantage of alternative fuel sources," said Ron Adams, director power solutions, Yanmar America Corporation. "Through close collaboration with dealers and original equipment manufacturers (OEMs), we seek to deepen our relationships and deliver greater value to our customers with our new power technologies."
During the show, Yanmar America will showcase the company's extensive product portfolio. The company will share the company's current and future vision for power equipment, including:
4TN107FTT Powerpack
HIPOWER SYSTEMS' EHR Battery Power Generator
ELEO modular, high-density battery
Yanmar Green Challenge 2050 vision for the future
4TNV107FTT Powerpack
Yanmar America is showing its highest-rated industrial engine at CONEXPO, the two-stage turbocharged 4TN107FTT, which has configurations at up to 207 hp. While the engine has been in production since 2021, it first became available in the US in 2022. The Powerpack is a palletized drop-in power unit that simplifies installation and design engineering for OEMs. The Powerpack with enclosure package will be on display at Booth S84014 in the South Hall 2nd Level. Available in outputs up to 207 hp, 155 kilowatts (kW), the Powerpack offers OEMs an easier path to design and package their diesel power solution.
In a first for Yanmar industrial engines, the 4TN107FTT benefits from two-stage turbocharging, with a low-pressure turbocharger delivering increased power at higher speeds and a high-pressure turbo boosting power at low engine speeds. An exhaust gas recirculation (EGR) system integrated into the cylinder head combined with a compact exhaust aftertreatment package by diesel oxidation catalyst (DOC), diesel particulate filter (DPF) and selective catalytic reduction (SCR) allow the engine to meet EPA Tier 4 final and EU Stage 5 exhaust emissions regulations and don't require users to stop work for normal regeneration operations.
"As a first for Yanmar America, the two-stage turbocharger for industrial engines allows for a 45 kW (60 hp) power increase at 2,200 rpm compared to our single turbocharger version", said Carl Micu, Yanmar America Power Solutions division. "We work closely with our customers, developing innovative products and services to meet the challenges of industry towards a sustainable future for all."
EHR Battery Power Generator
The HIPOWER SYSTEMS EHR is an innovative energy storage and distribution system that reduces noise and emissions and offers many advantages, including increased reliability and improved energy efficiency. It can be used independently or integrated into power generation systems running on diesel or spark-ignited generators. The system can also be connected to the grid or used with photovoltaic or other renewable generation.
ELEO—Modular Battery Systems
ELEO Technologies B.V. is a battery technology manufacturer located in Helmond, the Netherlands, with Yanmar acquiring a majority in the company in April 2022. ELEO will display its next generation of battery systems at the Yanmar booth. In January, ELEO officially opened its new battery production plant, increasing its annual battery production capacity tenfold to 500 megawatt hours, the equivalent of approximately 10,000 battery packs. The new battery system is the second product generation from the Dutch manufacturer after the first generation started production early 2020. With the new product, ELEO offers industrial OEMs ultimate flexibility from the scalable design to meet the wide variety of requirements present in the off-highway industry.
Yanmar Green Challenge 2050
Yanmar launched the YANMAR GREEN CHALLENGE 2050 with the goal of achieving carbon neutrality and promoting sustainability and resource recycling. This challenge is driving product development, creating new fuel systems, and fostering collaborations with OEMs to reduce environmental impact and promote resource recycling.
Yanmar is investing in the development of new energy sources for customers and industry and is striving for zero emissions from its headquarters and facilities. The company has already started several new-energy projects in different business lines, including hydrogen-powered cogeneration, research into hydrogen fuel marine engines, bio-gas cogeneration, dual-fuel power solutions with natural gas, fuel-cell marine technology, smart agriculture and resource recycling technologies. These efforts demonstrate Yanmar's commitment to creating a greener and more sustainable future.
Learn more from this Yanmar press release.