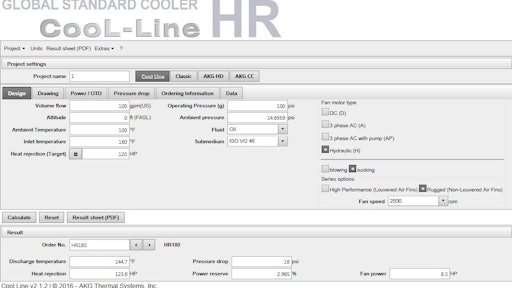 AKG America, a leading manufacturer of robust and efficient cooling solutions, has developed two new cooler selection tools that simplify the cooler system design process. With the selection tool program, AKG has launched a system that will allow customers to size the cooling package in minutes, get a STEP model the next day, and have the cooler delivered in 2 weeks. The software program enables design engineers to specify a given set of input variables based on application requirements and the software generates the optimized cooling options. Input parameters include size, volume flow, ambient temperature, inlet temperature and heat rejection target and more.
The on-line sizing platform was launched at CONEXPO 2017.
The cooling selection tool is specifically designed for AKG's Cool-Line and AEL Engine products. The Cool-Line product selection tool quickly allows users to size an AKG cooling system for their hydraulic, lubrication systems. The program can also be used to size transmission and fuel coolers for a wide range of applications including agriculture, compressor, construction, forestry, industrial, material handling, mining, off-highway and on-highway.
The AEL Engine cooling package online tool efficiently enables users to size an engine cooler for Tier 3 and Tier 4 diesel engines ranging from 50–800 hp. With the AEL Engine line customers can now quickly size, get drawing and delivery on a heavy-duty cooling package.
"Selecting the right cooler for a particular application can be a difficult process for an engineer," says Michael Ellis, Business Development Manager at AKG America. "In order to speed up this process, AKG has developed its user-friendly selection tool so that a customer size the cooling package in minutes, not hours, and receive a cooler system in weeks instead of months."
AKG will be adding the online tool to its website in the near future.