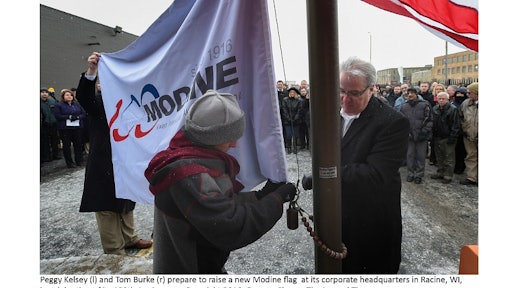 Modine Manufacturing Company recently kicked off the recognition celebration of its 100th anniversary with a global flag-raising event. Modine employees across the globe were invited to take part in commemorative ceremonies at 23 facilities in 11 countries. Each location raised a new Modine flag and held employee celebrations.
At the corporate headquarters in Racine, WI, President and Chief Executive Officer Tom Burke addressed the team during the ceremony. He discussed the importance of the 100-year milestone and compared Modine's longevity to the average lifespan of a U.S. public company. "We're 5 times the average, which says quite a bit," said Burke.
The flag displays Modine's 100th Anniversary graphic and new tagline. After significant research, it was determined that "Always Innovating. Always Improving." defines the culture of Modine and sets the stage for the next 100 years. The graphic pays homage to Modine's history while focusing on the future with the forward looking tagline. "We are celebrating our 100th year because we are always innovating and we will continue to ensure our future because we are always improving," Burke concluded.
Modine was incorporated in Racine, WI, on June 23, 1916 by its founder, Arthur B. Modine, and will continue to celebrate its anniversary throughout the year.