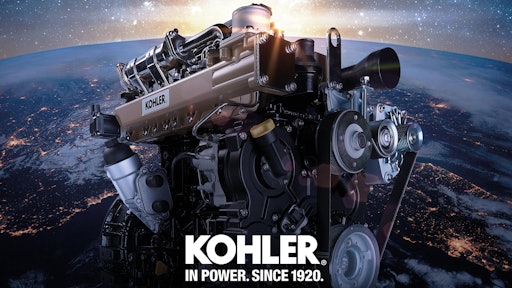 Kohler
Kohler announces its engines are compliant with the newly introduced China Tier 4 emissions regulations. The new emissions standard will be implemented on December 1, 2022, for industrial engines with a power rating of <560 kW (<751 hp).
Kohler says its engines are designed to meet the most stringent emissions standards worldwide, and thus they will be compliant with the new China Tier 4 standard for non-road mobile machinery (NRMM).
"The new China Tier 4 emission standard for non-road mobile machinery sets highly demanding requirements on particulate matter emission. Kohler has already upgraded the traditional engine fuel system, intake and exhaust systems and control system, to provide OEMs with fully compliant engines," said Li Shaoqi, Director of Commerce, Kohler Engines Asia Pacific, in the company's press release announcing the new regulation. "The upgrade from China 3 to China 4 is much more challenging if compared to the previous from China 2 to China 3, but Kohler, leveraging the experience gained in highly regulated markets, is able to offer enhanced performance, a smart exhaust after-treatment strategy, heavy-duty design, as well as guarantee low cost of ownership."
The company also notes the implementation of China Tier 4 (also known as China NRMM Tier 4) has raised curiosity about the potential for a China 5 which would be similar to the EU Stage V emissions regulation—currently the strictest in the world. If that were to occur, Kohler says Chinese customers who upgrade to China Tier 4 compliant engines will save on development time and costs when China Tier 5 goes into effect because the Kohler engines already meet those requirements.
Due to the stricter standards of Stage V, engine manufacturers like Kohler have been ensuring their engines are compliant with it as well as other slightly lesser regulations (such as Tier 4 Final in the U.S.) to ease design and installation for OEMs and end use customers.
With the implementation of China Tier 4, there will now be more harmonization between the various emissions regulations around the world. This again benefits engine and equipment manufacturers who are often designing products for use all over the world. Harmonization of regulations reduces the amount of variation—and therefore design time and costs—needed to meet global emissions standards.