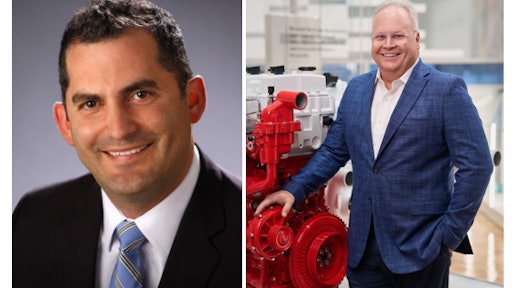 Cummins Inc. has announced that Beau Lintereur has been named executive director, Cummins Off-Highway Engine Business, replacing Eric Neal who has been in the role for over eight years. Lintereur reports to Antonio Leitao, vice president, Cummins Off-Highway Engine Business and will manage the construction, agriculture and industrial segments and global OEM customers.
Lintereur has extensive Cummins experience, recently heading up the Mining and Aftermarket businesses for Power Systems. He joined Cummins in 1998 and has held roles in the Power Electronics, global transfer switch, Power Generation, Filtration, and the Power System businesses, including overseas assignments in China and India. Lintereur holds a bachelor's degree in aeronautical and astronautical engineering from Purdue University, a master's degree in the same field from MIT and a master's degree in management and a certificate in public management policy from Stanford University.
Eric Neal has moved to a new role, leading Cummins new product introduction programs developing the next generation combustion engines for on and off-highway markets. As a leading powertrain provider, Cummins is on an accelerated journey to bring to market the most sustainable products for customers around the world.
Neal began his Cummins career in 1989 in technical roles including application and service engineering. He transitioned into commercial positions from 1995, building extensive business development experience and leading some of Cummins' largest accounts including Komatsu, Hyundai, PACCAR, Volvo, Ryder, and Nissan. In off-highway, Neal has developed and nurtured key strategic partnerships with global OEM customers, particularly across China, Korea, and Japan. He has helped Cummins become a leader in the industry, growing revenue, profit and market share in the off-highway engine business.