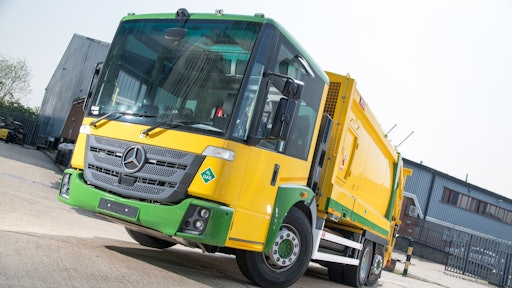 ULEMCo
As manufacturers look for ways to reduce emissions, alternative fuels continue to be an area of development. Like electrification and other alternative energy sources, the application often dictates the type of alternative fuel used.
Natural gas continues to be the avenue taken by many manufacturers, particularly in on-highway applications, due to its availability, power capacity and emissions-reduction benefits. Truck OEMs such as Scania and Iveco recently announced their joining of the BioLNG EuroNet consortium which aims to further expand liquefied natural gas (LNG) as a road transport fuel across Europe. The consortium plans to increase fueling infrastructure, construct a bioLNG production plant, as well as produce more LNG-powered trucks to help facilitate its goal (learn more, 21035549 and 21035683).
The Natural & Bio Gas Vehicle Association (NGVA Europe) estimates the European Natural Gas Vehicles market will continue to evolve and has the potential to reach a fleet of 13 million units by 2030, which is 10 times larger than today's market. It anticipates urban buses and coaches will see a market penetration of 33% while LNG and compressed natural gas (CNG) freight transport will reach a 25% market share (learn more, 21021155).
Engine manufacturers are continually rolling out new natural gas powered engines to meet the growing demands of the market. FPT, for instance, in November introduced its Cursor 13 NG EVO prototype natural gas engine. It includes a specific cylinder head featuring pent-roof combustion chamber with tumble intake ports, designed for optimal positive-ignition combustion. This positive ignition improves brake thermal efficiency, increases torque and rated power, and reduces greenhouse gas emissions (GHG); all of these the company was able to improve 10% compared to its previous natural gas engine designs (learn more, 21033962).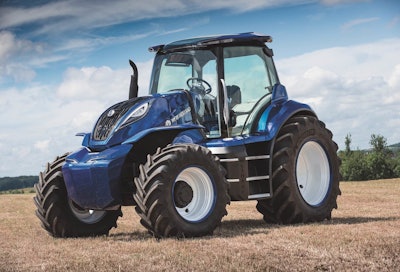 DEUTZ announced that in 2019 it will be launching two new liquefied petroleum gas (LPG) engines, the DEUTZ G 2.2 and G 2.9, for use in material handling and compact construction equipment. Through these engine launches the company says it is diversifying the choice of fuels that can be used in its products and paving the way for synthetic, gaseous e-fuels (learn more, 21044124).
Yanmar also recently announced it has developed new LPG powered engines which will be introduced at bauma 2019. According to the company, gas engines produce hardly any particulate matter (PM) and are quieter than diesel engines, aiding the comfort of equipment operators and those around them (learn more, 21045337).
While the number of heavy-duty natural gas vehicles have been increasing, ACT Research recently reported that in November, U.S. and Canadian Class 8 natural gas retail sales declined 23% from the same time period in 2017. "With the narrowed fuel price spread between diesel and natural gas, it really isn't surprising that sales of natural gas units softened," said Ken Vieth, Senior Partner and GM at ACT Research in the press release announcing the data (learn more, 21046794). "That said, it is important to remember that the conversion of a fleet from diesel to natural gas doesn't rest entirely on the savings of fuel. Natural gas offers more consistent fuel pricing and is one way fleets can meet more stringent environmental requirements, particularly where renewable natural gas is available."
He continued, "Transportation power is no longer a one-size-fits-all proposition. All viable commercial vehicle power alternatives, from diesel and natural gas to electric of all kinds, must now be considered to accurately measure potential cost savings, while meeting future emissions."
Fuel options and applications continue to expand
Hydrogen is one of the many other alternative fuels of interest for the on-highway industry, as well as some off-highway applications. Several manufacturers, including Kenworth and Toyota Motor North America Inc. are currently developing and testing hydrogen-powered vehicles. Read the article "Hydrogen Proves its Potential in Heavy-Duty Applications" to learn more.
FPT believes hydrogen will be the fuel of choice for long-haul on-highway applications, and as such has developed a hydrogen fuel cell concept aimed at delivering zero tank-to-wheel and well-to-wheel emissions. The system is comprised of H2 tanks, fuel cell module, lithium-ion battery pack, e-axle and an energy management system. According to the company, the fuel cell supplies energy to the e-axle, which ensure performance is aligned with that of a diesel powertrain (learn more, 21023105 and 21033941).
In addition to the new LPG engines it will launch this year, DEUTZ announced in January it is currently researching adaptation of traditional combustion engines to use hydrogen. The company has worked with a Munich-based startup, Keyou, on the development of a conversion kit by providing a standard 6-cylinder diesel engine. Using this engine, Keyou was able to develop a conversion kit capable of turning a conventional combustion engine into one powered by state-of-the-art hydrogen technology. The prototype was unveiled at bauma China 2018.
ULEMCo has been working to accelerate the use and commercialization of hydrogen for several years now. In 2016, the company introduced the world's first hydrogen dual-fuel garbage trucks in Scotland (learn more, 12210898). Since then, it has completed several other fuel-conversion projects.
Currently, it is converting a Volvo FH16 truck to operate on 100% hydrogen—which it has named the MLE for Mega Low Emissions. The company says that unlike other hydrogen fueled vehicles, the truck is powered by its combustion engine instead of fuel cells and an electric motor (learn more, 21001113).
"Upon conversion, the engine is modified to run on hydrogen injection and ignition, as well as on-board hydrogen storage," says Amanda Lyne, CEO of ULEMCo. The company also installs its control system with optimized strategies for burning hydrogen rather than diesel. "There is some loss in maximum power, but around 380 bhp is still available on the MLE demonstration truck," she says.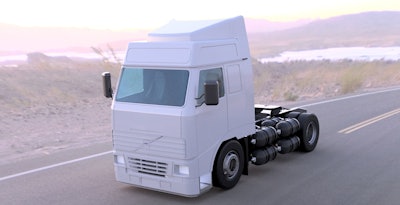 In November, the company announced record-breaking efficiency results were achieved during testing of the 100% hydrogen-fueled engine (learn more, 21034346). According to Lyne, this project is intended to show what is possible, and what would be needed in the future to develop a 'right sized' engine specifically designed to be powered by hydrogen. "Conversion to dual fuel enables a low-cost way of reducing emissions now, while development work is progressed for the engine designs of the future," she says. "With a new generation of hydrogen-only engines, we can truly achieve zero emissions. Applications not requiring zero emissions can take advantage of the conversion approach without delay."
Propane autogas is another fuel gaining use within the heavy equipment industry. Though more prevalent in smaller equipment applications—such as lawn mowers and other compact equipment—the size of vehicles capable of using the fuel has been on the rise. ROUSH CleanTech's 6.8L V10 3V propane autogas engines, for instance, can be used in Class 4-7 vehicles, and were recently certified to the California Air Resources Board's (CARB) optional low oxides of nitrogen emissions standard for heavy-duty engines (learn more, 21020638).
CARB's standard requires emissions of 0.02 grams per brake horsepower-hour (g/bhp-hr). According to ROUSH CleanTech, the newly certified engines are 90% cleaner than the current Environmental Protection Agency's (EPA) most stringent 0.2 g/bhp-hr heavy-duty engine standard.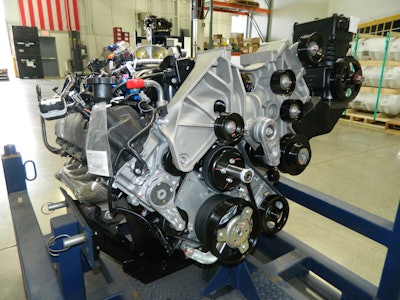 To achieve the new ultra-low NOx emissions standard, changes were made to both the software and hardware of the engines, says Todd Mouw, President of ROUSH CleanTech. "We modified the engine calibration in the powertrain control module and made some changes to the exhaust system of the vehicle," he explains. "It was a challenging and expensive process, but the end result is a seamless, turnkey solution for our customers."
Last March, the Propane Education & Research Council (PERC) released new data showing propane autogas' emissions-reduction capabilities continue to improve. The study, conducted by the Gas Technology Institute, found recent technology advancements for medium-duty commercial trucks have greatly reduced NOx emissions (learn more, 20995758).
Compared to gasoline, the molecular structure of propane enables it to offer a reduction in all tailpipe emissions, including nitrogen oxide (NOx) and carbon dioxide, says Mouw. Through the software and hardware changes made by the company, it can ensure tailpipe emissions are reduced by further cleaning the exhaust that is expelled from the propane autogas engine.
He says ROUSH CleanTech did a lot of testing and fine-tuning of the engine calibration to meet CARB's ultra-low NOx standard. "To reach ultra-low NOx, we had to have very high engine efficiency, finely tuned calibration and minor component upgrades," says Mouw. "But—thanks to the clean burning nature of propane—no active exhaust components or additional emissions systems were needed."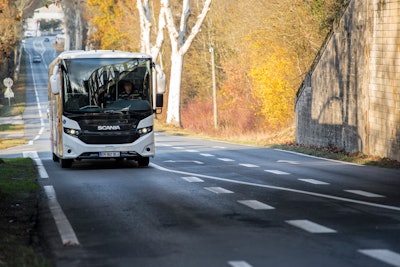 A Ford gasoline engine is used with all of ROUSH CleanTech's propane autogas fuel systems. "We achieve equal horsepower, torque, and towing capacity to the standard gasoline Ford engine with our software alone," says Mouw. "Other than the upgraded valve train package from the factory, there are no other internal engine modifications required."
The entire fuel system—fuel tank, fuel lines, fuel rails and injectors—is replaced with propane-specific components. ROUSH CleanTech utilizes Ford's powertrain control module with a unique propane calibration, as well as a gateway module, in order to control the engine and fuel system accordingly.
While there are many fuel options now available, it does not mean diesel is going away any time soon. Diesel will continue to be the primary fuel source in several types of applications and regions around the world for many decades. However, efforts to make diesel more sustainable are occurring to provide emissions reduction benefits in the near term.
Recent research from The Fuels Institute and Navigant Research found diesel and hybrid diesel powertrains are projected to make up 62% of U.S. commercial vehicle registrations by 2025; gasoline powertrains are expected to account for 35% of the market and other technologies, including hybrid gasoline, electric, fuel cell and natural gas vehicles will be 3% (learn more, 21044529).
"Diesel powertrains are the technology of choice for commercial trucking because of their unique combination of power, efficiency, durability, range, reliability and performance," said Ezra Finkin, Director of Policy and Outreach for the Diesel Technology Forum, during the National Biodiesel Conference in January. "The greatest benefits for the environment and for truckers lie in the widespread adoption of the newest generation of clean diesel technology and powering those engines with advanced biofuels such as biodiesel."
Though diesel will not disappear any time soon, the continued interest and development in alternative fuel options demonstrates the changing landscape of the heavy-duty vehicle and equipment industries, and that numerous options will be needed to meet their varied requirements.
Companies in this article