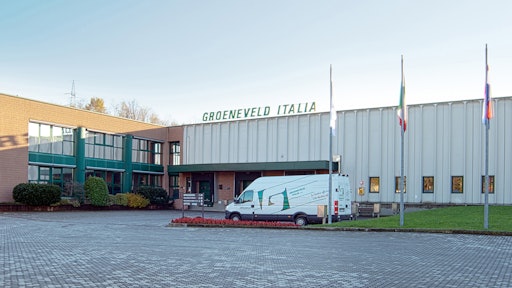 After 2 years of preparations, the two manufacturing plants of Groeneveld Groep B.V. in Italy have attained the prestigious ISO/TS 16949 certificate of quality. ISO/TS is the highest quality standard in the demanding automotive industry and goes well beyond the well-known ISO 9001 standard. "The ISO/TS certification marks a significant milestone on our path to World Class Manufacturing and emphasizes the quality of our organization and processes," says Ron den Engelsen, CEO of Groeneveld Group, manufacturer of oil management and automatic lubrication systems, safety solutions and on-board computers.
Like ISO 9001, which Groeneveld satisfies since the early 90s, ISO/TS is geared towards process quality. Nonetheless, ISO/TS 16949 sets out in more emphatic terms the requirements for the quality management system regarding the design and development, production and installation of automotive-related products. The latest and most stringent automotive quality standard places a far greater degree of emphasis on aspects such as continuous improvement and preventing mistakes and waste. Aspects you can do plenty about, especially on the shop floor. This new standard is much more closely involved at the level of production staff and is more in tune with tools such as Six Sigma and Kaizen. "The achievement of the ISO/TS 16949 certificate means to embrace a new philosophy of quality, not just higher quality standards in manufacturing and design. I met a young, prepared and motivated team in Italy that was able in few years to make a turn-around of processes and procedures. I am confident that they are committed to become a World Class Manufacturing organization," says Giorgio Ippolito, Lead Auditor of the Swiss Association for Quality and Management Systems (SQS), after the successful completion of the audit.
Heading towards World Class Manufacturing
As a first-tier supplier to leading manufacturers of buses, trucks, trailers and construction & mining equipment, Groeneveld has always placed considerable emphasis on quality. However, in the strong belief that there is always room for improvement, the company raised the bar significantly higher a couple of years ago, opting for a Total Quality Management (TQM) approach. "When we started working with this new TQM approach only 3 years ago, with World Class Manufacturing being the ultimate goal, we made a very deliberate choice to aim for ISO/TS 16949. A challenging goal, but it was one that our entire organization consciously set for itself due to the fact that process quality is the foundation for the very highest product quality," says Diego Macario, Managing Director of Groeneveld Manufacturing Italy, which has a factory in Cassago Brianza and another in Valmadrera. "What's more, the principles and methodologies we used to achieve the ISO/TS standard, including setting up Continuous Improvement Teams and establishing a Quality Corner in the factory, also led to a tremendous level of commitment of the production staff," Macario underlines.
"The successful ISO/TS 16949 certification by SQS doesn't just confirm that we have our processes in perfect order. Above all, it's also a great acknowledgement of our staff. And everyone is aware of the fact that attaining the certificate is not the end of a process spanning more than 2 years, but rather the start of a new quality mindset pervading our entire organization. ISO/TS 16949 ensures better process management, thereby reducing mistakes and waste, with everything revolving around continuous improvement. After all, things can always be done better, more efficiently. In that sense, striving towards the highest quality so as to ensure optimum customer satisfaction is a race without a finish line," concludes Macario.