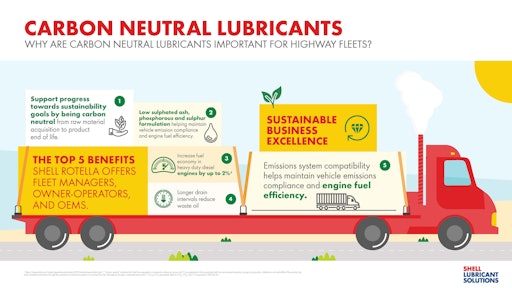 Shell
Shell Lubricants has announced it will offer carbon neutral1 products for use in a range of industries including power and wind, general manufacturing, steel and construction, and oil and gas. As part of this new offering, the company will also make available carbon neutral oils for heavy-duty engines.
The company is offering the new products to help customers meet their zero emissions goals. In addition, Shell will continue its own carbon reduction efforts. Globally, the company says it aims to offset annual emissions of more than 52 million gallons of advanced synthetic lubricants. It is also working toward becoming a net-zero emissions energy business by 2050 or sooner.
"Shell Lubricants is invested in reducing the net carbon footprint and is committed to providing the most advanced products to meet the always changing needs of industrial operations," said Machteld de Haan, Vice President Shell Lubricants Americas, in a press release announcing the new product offering. "Shell Lubricants is persistently moving forward across all of our business sectors to provide customers with sustainable solutions and is proud to be a part of the largest carbon neutral program in the lubricants industry."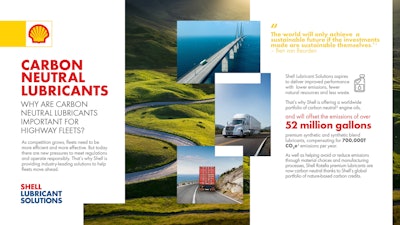 Carbon neutral lubricants and engine oils
Several products within Shell's global portfolio will have carbon neutral options added to them including:
Shell

Tellus S4 range

Shell

Gadus "V" range

Shell

Naturelle biodegradable lubricants

Shell

Rhodina Grease BBZ

Shell

Omala gear oils

Shell

Morlina bearing and circulating oils

Shell

Mysella stationary gas engine oils

Shell

Turbo range
In addition, Shell Rotella T6 Full Synthetic and Shell Rotella T5 Synthetic Blend oils for heavy-duty engines in North America will now be carbon neutral as well.
Shell notes in its press release announcing the new products that to achieve carbon neutrality for its products and overall business, it will work to reduce emissions during production and design of its products. It will do so by optimizing efficiency through the use of more recycled content in bottles when possible. Energy efficiency improvements will continue to be achieved by using renewable power sources; currently over 50% of electricity used in Shell Lubricant Blending Plants comes from renewable sources the company states. Shell also plans to offset remaining CO2e emissions through buying and selling carbon credits.
Shell says it will continue investing in nature-based solutions initiatives, as well, to reduce environmental impact.
1 The term "Carbon Neutral", indicates that Shell has engaged in a transaction where an amount of carbon dioxide equivalent associated with the acquisition and pre-processing raw materials, lubricant production, packaging, distribution, and the subsequent use and end of life treatment of the used materials in relation to the Shell Lubricants products, has been removed from the atmosphere through a nature based process, or emissions saved through avoided degradation of natural ecosystems.