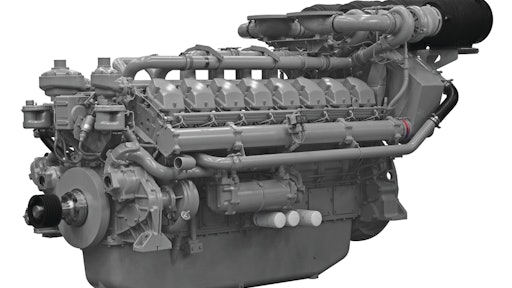 Perkins is set to begin manufacturing its powerful 4000 Series engines in India, following the decision by parent company Caterpillar to invest $150m in a new plant.
The manufacturing facility will be located in the Shendra Industrial Area in Aurangabad and work is due to start in early 2012 with a completion date targeted for mid-2013. Initially the facility will have the capacity to produce around 3,000 engines per year with the capability to increase to 5,000 units. It is envisaged that the workforce will grow from 60 employees at the plant's inception to approximately 450 when it opens in 2013.
The 4000 Series is currently only manufactured at Perkins' Stafford, UK, large engine center but unprecedented demand from the electric power sector has meant that the India expansion is a necessity. This is despite Stafford opening a new third manufacturing line in 2011 to boost its own production.
In line with Perkins' strategy of manufacturing closer to its customers, the new India plant will serve the growing demand from the Asian markets while the Stafford facility will concentrate on supplying customers in Europe, the Middle East and Africa, and South America.
The new production facility is an exciting opportunity according to Perkins' Richard Cotterell, General Manager, Large Engines: "The decision to invest in this project and build the 4000 Series in India represents another milestone for Perkins in India. We have been working with a number of OEMs here for many years and now we have the chance to develop that relationship.
"The 4000 Series is a proven range of powerful engines and coupled with the Perkins brand, which is well-known and respected, there is strong demand from our Asian customers for this product. The new facility will allow us to better meet the demand for the engine from the Asian markets by shortening lead times," he continues.
Perkins President Gwenne Henricks, adds: "This is wonderful news for Perkins as we mark the start of our 80th year in business. The new plant will be a great addition to our global manufacturing capability and will help us forge even closer ties with our valued Asian OEM customers. The facility will also play a vital role in the Aurangabad community as we look to utilize local skills and recruit experienced employees to create yet another world class facility for Perkins."
The 4000 Series is a range of 6-, 8-, 12- and 16-cylinder diesel and spark ignited gas engines that range from 695 kWm up to 2,083 kWm. The latest introduction, the 4016-61TRG model, is the most powerful unit ever produced by Perkins.
Perkins has two distribution partners in India – GMMCO Power based in Chennai and Powerparts Private Limited, located in New Delhi, which provide product support to Perkins' Indian OEMs including parts, fault diagnosis, servicing and warranty work.