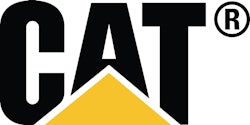 Caterpillar has introduced the next generation of the Cat C7.1 ACERT industrial engine at INTERMAT 2012. The new C7.1 ACERT is designed to meet U.S EPA Tier 4 Final/Stage IV emission standards.
The next generation of the C7.1 ACERT is a 7 liter, six cylinder engine which delivers dependable power for a wide range of customer applications. Power output spans 116 to 225 bkW (156 to 302 hp), and the 225 bkW (302 hp) rating is capable of producing peak torque of up to 1,280 Nm (944 lb./ft) at 1,400 rpm.
Equipped with a proven A5 electronic control unit, high-pressure common rail fuel system and a choice of either a single or series two-stage Smart Wastegate turbocharger, the C7.1 ACERT delivers excellent low speed response and torque, as well as class-leading power density.
Designed for reliability in off-road applications operating in demanding environments, the engine features a poly-vee belt and hydraulic tappet adjustment that minimize the need for routine service.
Installation space is always a primary consideration for Original Equipment Manufacturers (OEMs). Caterpillar has designed the C7.1 ACERT engine and after-treatment system with multiple features that allow ease of installation. Supplied with an industry-leading choice of factory-configured engine options, the Cat Clean Emissions Module (CEM) is an integral component. In one package, the CEM incorporates a "no ash service" diesel particulate filter (DPF) and a selective catalytic reduction (SCR) system.

Caterpillar's design also allows OEMs maximum flexibility to mount the aftertreatment in a wide variety of locations, depending on the application. For ease of installation and to reduce complexity, the CEM can also be supplied from the factory installed as a module with the engine or packaged remotely within the chassis or above the engine.
The Tier 4 Final/Stage IV Cat C7.1 ACERT uses Caterpillar's proven passive regeneration to continually clean the DPF. This process is completely transparent to the operator and maximizes uptime.
Additionally, estimated total fluid consumption improvements of up to 5% have been realized incorporating both diesel and DEF (Diesel Emissions Fluid) when compared with the existing Tier 4 Interim/Stage IIIB C7.1 ACERT. These features make the new C7.1 ACERT a powerful choice for mid-range industrial applications.
"Caterpillar has extensive experience designing and manufacturing diesel engines for a wide variety of applications," says Mike Reinhart, Marketing Manager for Caterpillar Industrial Power. "We've leveraged the knowledge gained in designing engines for the toughest applications and developed the best possible Tier 4 Final/Stage IV solution for our customers."
Serviced by the most extensive dealer network in the world, Cat industrial engines are offered with comprehensive warranty, financing and extended service plans which provide customers the best choice for their most demanding applications.