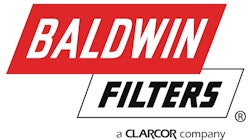 Baldwin Filters has announced that it has promoted Rich Palmer to Vice President, Worldwide Original Equipment Sales. He succeeds Gary Grabau, who has assumed the position of Vice President, Strategic OE Initiatives with Baldwin.
Palmer started his career with Baldwin in 1987 as an intern in the purchasing department. Since that time, he has served in many positions, including Supply Quality Engineer, Application Analyst, Customer Service Supervisor, District Sales Manager – Aftermarket and OE Sales Account Manager. Palmer most recently served as Baldwin's Director of OE Sales.
Palmer will be responsible for Baldwin's global original equipment sales. "Rich brings an enormous amount of experience to this position. He understands Baldwin Filters and filtration from varying viewpoints which makes him uniquely qualified for this position," says Jeff Vasichek, Baldwin's Vice President of Sales and Marketing, who oversees all sales functions with the company.
Grabau will be responsible for the development and execution of strategic original equipment programs and partnerships, as well as positioning cutting edge technology on new equipment platforms.
Grabau came to Baldwin in April 1991 as Manager of Product Development after spending 19 years in the industry. He continued at Baldwin serving as Director of Product Management, Director of International Sales and Vice President of International Sales. He was promoted to Vice President, Worldwide Original Equipment Sales in 1995.
"Gary has had a tremendous effect on our OE business both domestic and internationally," says Vasichek. "Under his leadership, Baldwin has become a force in the original equipment market. In his new role, Gary will continue to build on the momentum established over the last decade."