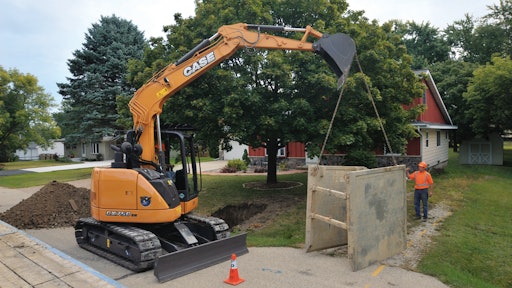 CASE Construction Equipment introduces the new CX75C SR and CX80C mid-sized excavators – two new models designed to bring the power and performance of a full-sized excavator into a smaller package for improved jobsite accessibility and convenience. Both machines offer a first-in-class Tier 4 Final engine solution featuring a Diesel Oxidation Catalyst (DOC)-only Cooled Exhaust Gas Recirculation (CEGR) system. Key advancements over the previous CASE designs in this size class include a 5% improvement in fuel efficiency, a 7% faster cycle time, 20% larger fuel tank for extended runtimes and a 7% wider cab for increased productivity. The new models also offer 9% more hydraulic power than previous models for greater digging power and responsiveness.
The CX75C SR and CX80C weigh 16,200 lbs. (7,350 kg) and 18,800 lbs. (8,510 kg), respectively. Both machines operate at 55.2 net horsepower, provide a digging force of 12,800 lbs. and can reach a digging depth of 12 ft. 6 in. The CX75C SR is a minimum swing radius machine designed for work in more confined areas, such as along buildings and on roadsides. The CX80C features a more conventional tail design for a machine of its size, yet extends out noticeably less than full-sized conventional excavators.
Highlights Include:
Tier 4 Final: The unique Tier 4 Final solution for this size class matches with a high-pressure common rail (HPCR) fuel injection system and new electronic controls to reduce fuel consumption. This design eliminates the need to burn extra fuel for regeneration common with other CEGR solutions, and also eliminates the diesel particulate filter (DPF).
Efficient Operation: Other factors boosting fuel economy with the CX75C SR and CX80C include the ability to select from three operating modes (auto, heavy and speed priority) to match the engine throttle and RPM requirements to specific tasks. The Auto Idle feature also allows for multiple idle rates, which reduces fuel consumption between tasks. An automatic engine shutdown further increases fuel savings.
Working in Tight Spaces: The CX75C SR and CX80C retain proven features found on previous models for working in tight spaces. This includes a mono or center swing boom system, as well as an optional offset boom (only available on the CX75C SR) for digging directly against the side of buildings or other obstructions. An optional proportional joystick control makes the operation of attachments even easier.
Application Versatility: A full range of buckets, thumbs, arm lengths and coupler options give the CX75C SR and CX80C excavators the ability to handle a diverse set of applications. Users can choose between heavy-duty, severe, and high-capacity bucket options. A wider dozer blade improves stability. Available are four auxiliary hydraulic control systems (hand or foot controlled) and three track options (rubber, rubber insert, or steel shoes).
Operator Comfort and Visibility: The cab features 16% more glass for greater visibility. The larger cab provides operators with more foot space and elbowroom. To further increase comfort, the redesigned cabs rest on a four-point fluid mounting system that absorbs bumps and vibrations. Each machine comes standard with a seven-inch, easy-to-read, full-color monitor. A rearview camera is optional. The new cab meets Level II ROPS/FOPS (rollover/falling-object protection systems) safety standards.
Serviceability: The new excavators feature eye-level fluid gauges, swing-out coolers, and a sliding radiator cleaning net. Radiators, filters, hydraulics and the engine are all easily accessible from the ground.
CASE Exclusives Provide Value
CASE offers a number of exclusive/proprietary technologies and services that add value to the new models. This includes the CASE SmartFit bucket tooth system. The heavy-duty, self-sharpening teeth combine exceptional strength with ease of installation via a hammerless fastener system and reusable locking pins.
Available as an option is CASE SiteWatch: a telematics, remote monitoring and data reporting solution that provides customers with actionable information to help manage multiple pieces of equipment in the field, optimize machine performance, improve utilization, reduce fuel use and idling, and help improve equipment security.