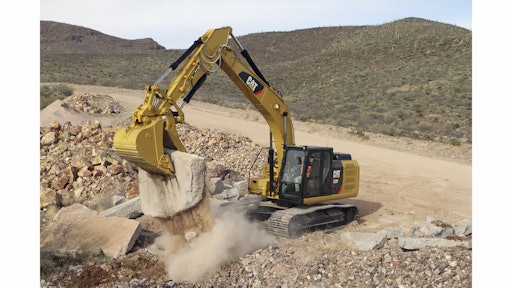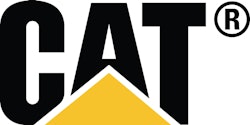 The new Cat 323F L excavator is designed to take on a wide range of applications with outstanding versatility. Even more fuel efficient than its predecessor, the machine features a heavier counterweight as standard, providing customers with enhanced lifting capability and stability to tackle the most demanding jobs. When equipped with the optional heavy counterweight configuration, the machine delivers 20% more over-the-side lift capacity for even greater stability, making it capable of handling the largest of work tools like thumbs and grapples—even when using quick couplers. The heavy-duty boom and stick feature high-strength-steel and box-section construction with internal baffles for added durability. The massive upper frame, carbody (lower frame), and track roller frames are designed for long-term strength and durability.
The F Series machine delivers a 9% improvement in fuel efficiency compared to the E Series machine, and much of that can be attributed to the 161 hp (120 kW) C7.1 engine—one that meets the strictest U.S. EPA emissions regulations without interrupting the operator or the job. Proven electronic, fuel, air and aftertreatment components like a maintenance-free diesel particulate filter ensure customer expectations for productivity, fuel efficiency, reliability and service life are met. The inherent fuel efficiency of the C7.1 is further enhanced with an automatic engine speed control (lowers engine rpm when the machine isn't loading), an engine idle shutdown system (stops the engine after a pre-set idling interval), and an ECO mode (allows operators to tailor machine performance to the application). The engine also runs efficiently on biodiesel blends up to B20.
The 323F L powerful hydraulic system places major components in close proximity; this minimizes piping lengths and reduces frictional losses and pressure drops. The system delivers precise flow volume where and when it is required. Combined with boom and stick regeneration circuits that reduce the load on the main pumps, the unique Cat hydraulic system contributes significantly to overall fuel savings.
The pressurized cab is spacious and quiet with large glass areas for all-around visibility. It features positive air filtration, height-adjustable joystick consoles, a large color monitor, radio with MP3 auxiliary audio port, and available air suspension, heated and cooled seat options to help make operators comfortable and productive.
Serviceability features include ground-level access to major maintenance points, electric fuel system priming pump, remote fuel tank drain and a fuel level indicator to help avoid overfilling. Safety features include a cab-integrated roll-over-protection structure (ROPS), anti-skid surfaces, programmable time delay halogen working lights, easily stored upper and lower windows, large skylight and a rearview camera system.
Technology enhancements
Equipment owners need to employ their machines to full potential in order to realize maximum return on investment. They need to produce more in less time using less fuel while avoiding unnecessary machine wear and ensuring the safety of everyone on the job site. Cat Connect helps customers get more value from their Cat equipment and improve jobsite efficiency by capitalizing on Caterpillar technology and Cat dealer services.
Cat Grade Control Depth and Slope*, standard on certain 323F configurations, is one of the Cat Connect offerings. It is a factory-integrated system that will get operators to grade quickly and efficiently. The system's well-protected front linkage sensors provide real-time positioning and cut and fill data right through the standard cab monitor. Not only will this help operators get digging and slope work done right the first time to save money on fuel and materials, but it also minimizes the need for a grade checker. The system can easily be upgraded to 3D capability through the Cat dealer by adding proven Cat AccuGrade GPS or Universal Total Station (UTS) systems.
LINK technologies like the optional Product Link system wirelessly connects owners to their equipment, providing access to valuable machine data such as location, hours, fuel consumption, idle time, events and diagnostic codes for analysis and reporting via the online VisionLink user interface. LINK information assists with fact-based decision making to help increase efficiency and lower owning and operating costs.
*Cat Grade Control Depth and Slope now standard on Cat 323F and 323E (L/N) hydraulic excavators sold in North America and Europe with the 9.5-foot (2.9-m) stick and standard reach boom. Not currently an available option on the 12' 0" stick or super long reach.