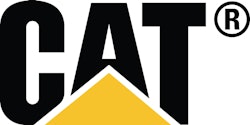 Caterpillar Inc.
launches its Cat XQ375, the company's first mobile diesel generator set to meet Tier 4 Final emissions standards. The Cat XQ375 rental generator set is ideal for mid-sized power needs throughout the U.S. and Canada, especially those in air quality management districts.
Rated for standby operation at 375 ekW, the Cat XQ375 offers greater power output than previous Cat generator sets in this range while improving fuel efficiency. It also offers enhanced sound attenuation as well as simpler, faster voltage changes.
In addition to its standby rating, the Cat XQ375 is rated for prime operation at 290 ekW, 320 ekW, or 340 ekW, depending on voltage and frequency. It is powered by the fuel-efficient Cat C13 ACERT engine equipped with the Cat NOx Reduction System, which captures and cools a small quantity of exhaust gas, then routes it back into the combustion chamber where it drives down combustion temperatures and reduces NOx emissions. It is sold and rented exclusively through Cat dealers.
Equipped with the new EMCP 4.4 control panel, the XQ375 features a user-friendly interface and automatic generator set paralleling. A principle advantage of the control system is the auto-configuration of key performance parameters when voltage changes are required. The EMCP 4.4, ADEM A4 and Cat Digital Voltage Regulator (DVR) sense changes and adjust the parameters for optimum performance. Providing greater flexibility when moving between multiple job sites with differing frequency and voltage needs, this auto-configuration capability eliminates time and the possibility of errors when reprogramming units.
The Cat XQ375 mobile generator set accepts 100% rated load in one step and meets ISO 8528-5 transient response. This next-generation product meets 76 dBA at seven meters at 110% of the prime rating while maintaining ambient and altitude performance for all voltages.
Over the next two years,
Caterpillar
will launch a full range of mobile diesel power modules that meet Tier 4 Final emissions standards, ultimately offering generator sets with standby ratings from 20 ekW to 500 ekW.