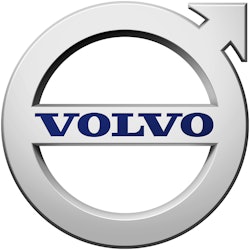 Volvo Trucks in North America extended its recommended maintenance intervals for diesel engine oil and diesel particulate filters (DPFs) on all model year 2011 and newer Volvo trucks equipped with Volvo's D11, D13 or D16 engines. The longer intervals can save customers thousands of dollars during the life of a truck.

For engine oil and filters, the new recommended maintenance intervals add 10,000 miles to the previous life of an oil change for each of three duty cycles – long haul, regional haul and heavy haul – as defined by fuel consumption. Those intervals were increased to be 45,000 miles for long haul, 35,000 miles for regional and 25,000 miles for heavy. As before, owners must use engine oils that meet Volvo's VDS-4 standard. In addition, if engine idle time is greater than 30 percent, operators should use the next shorter drain interval.

For long- and regional-haul applications, the previous interval of 250,000 miles between cleaning or replacement of DPFs is extended to 400,000 miles.

The updated recommendations followed more than a year of testing and analysis of customers' trucks and returned parts to ensure the changes would not shorten vehicle life or degrade performance or reliability.

"We are always looking for opportunities to reduce our customers' operating costs, and these new recommended maintenance intervals can significantly help their bottom line," says John Moore, Volvo Trucks Product Marketing Manager - Powertrain. "Now that we have some experience with and data from EPA 2010-compliant trucks, we have confirmed our assumption that the reduction in particulate matter means longer-lasting engine oil and less ash in DPFs. In addition to saving money, longer intervals mean trucks are more productive because they spend less time in the shop."

Assuming a 600,000-mile vehicle life in over-the-road applications, the new engine oil intervals will allow truck owners to forego between four and 16 oil drains, depending on duty cycle, compared to the prior maintenance schedule. In oil costs alone, that represents a savings of hundreds of dollars even for the lightest duty cycles. Those savings would be substantially larger for operations that do not perform preventive maintenance in-house. The extended interval for DPFs would allow many owners to have filters cleaned just once rather than twice during the life of the truck, which could save several hundred dollars.