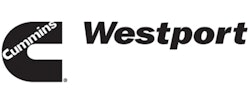 At the opening reception of ACT Expo in Dallas, TX, Cummins Westport Inc. unveiled the ISB6.7 G, a 6.7 liter medium-duty, factory built dedicated natural gas engine for school bus, shuttle bus, medium-duty truck and vocational applications. The new ISB6.7 G is currently in field trials with full production expected to commence in mid 2016.
The ISB6.7 G natural gas engine is based on the Cummins ISB6.7 diesel engine platform, the industry leader in Cummins' medium-duty engine family. The ISB6.7 G will operate exclusively on natural gas (CNG or LNG) utilizing Cummins Westport's proprietary spark-ignited, stoichiometric combustion with cooled exhaust gas recirculation (SEGR) technology, first introduced with the 8.9 liter ISL G.
The ISB6.7 G features three-way catalyst aftertreatment, which is packaged as a muffler and is maintenance- free. No diesel particulate filter or selective catalytic reduction aftertreatment will be required. Preliminary specifications include a range of ratings to 260 hp and 660 lbs.-ft. of torque and automatic transmission capability to meet customer and original equipment manufacturer requirements. The ISB6.7 G will be manufactured in Cummins' medium-duty engine plant in Rocky Mount, NC.
"We are pleased to announce this important product development for Cummins Westport here at ACT Expo, North America's largest Clean Fleet show," says Rob Neitzke, President of Cummins Westport. "The ISB6.7 G will offer customers low emissions with diesel like performance, reliability, and durability and a choice of either compressed natural gas or liquefied natural gas as a fuel."
The ISB6.7 G is expected to be certified at launch to meet the U.S. Environmental Protection Agency and California Air Resources Board emission standards of 0.20 g/bhp-hr NOx and 0.01 g/bhp-hr PM and 2016 U.S. greenhouse gas and fuel economy regulations.
Partial funding in support of the ISB6.7 G engine development has been received from California Energy Commission through its Public Interest Energy Research (PIER) Program in conjunction with the Gas Technology Institute.