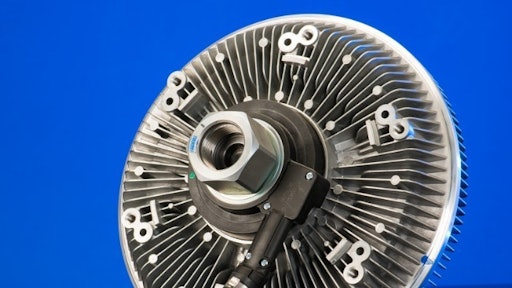 BorgWarner produces Visctronic fan drives for excavators, cement mixers and crane trucks manufactured by SANY Heavy Industries, a leading off-highway vehicle producer in China. BorgWarner's electronically actuated Visctronic fan drives respond directly to engine cooling needs, resulting in more available horsepower, improved fuel efficiency and lower emissions. Depending on the duty cycle, BorgWarner's Visctronic technology improves fuel efficiency up to 1.4% compared with conventional fan drives and up to 4% compared with fixed fans. The technology also features a maintenance-free design and improves driver comfort with low noise, vibration and harshness. BorgWarner's Visctronic fan drive debuted in SANY D12 diesel engines in January and is expected to launch on D07 engines this summer.
"Off-highway vehicles operate under high loads and in tough environments. BorgWarner's Visctronic fan drives deliver precise cooling, generating the right amount of airflow at the right time to help the entire engine run more efficiently," says Daniel Paterra, President and General Manager, BorgWarner Thermal Systems. "BorgWarner is committed to serving the off-highway market with innovative solutions designed to increase fuel efficiency, reduce emissions and enhance performance. We are pleased to offer our advanced airflow solutions to SANY."
Actuated by ambient temperature via a thermostatic coil, conventional fan drives deliver the torque required to adequately cool the engine, but due to the lack of accurate engine temperature inputs, can still draw considerable power when cooling may not be needed. BorgWarner's Visctronic variable speed fan drives use specially calibrated software to communicate with the engine's electronic control unit, responding directly to the engine's needs based on engine temperature, engine speed, vehicle speed or engine load. Even under dynamic conditions, the Visctronic system operates only when needed, reducing the average fan speed in any given duty cycle and making more horsepower available for greater work output.
Companies in this article