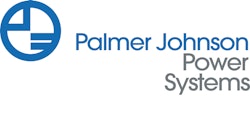 Palmer Johnson Power Systems (PJ), an off-highway powertrain and aerial machine repair service organization, is celebrating its second consecutive year of 365 days with zero lost time injuries. Palmer Johnson has over 50 factory-trained technicians and 110 employees spread across the Midwest and West Coast. This effort comes on the heels of continued growth. Given the size and scale of the equipment being worked on, this is a significant accomplishment.
"This accomplishment is a total team effort. Everyone takes a great deal of pride in looking out for each other. There is a true brotherhood in our shops and this a testament to that. I am honored to be a part of such a dynamic group of individuals who have taken Palmer Johnson to this level in safety," says Andy Stehl, Director of Service.
To achieve the goal of 365 days takes a concentrated effort from all PJ employees. During 2015 and 2016, PJ developed even more safety standards to prevent shop accidents. Each week employees do floor walks to audit their Service Centers for organization and cleanliness. PJ wants its employees to take pride and ownership of their environment and of their safety. This has led the service teams to have real conversations over real scenarios on the shop floor; knowing all along that common sense is often the biggest driver of an injury-free workplace. Common sense is often said to be not that common, so PJ focused on discussing it and increasing awareness within the team.
"I am humbled by what our Service Department has accomplished over the past few years. This accomplishment of two consecutive years of injury free work is a defining moment for us. It goes well beyond safety, and is a symbol of the Palmer Johnson family and the extreme efforts our Service Centers have put in to all aspects of service excellence. In service, our people across the nation are passionate about what they do, our customers and helping each other. This defines who Palmer Johnson is and is leading us to new and exciting places as a company. I am very proud to be a part of this and can't wait to see what they accomplish next!" says Brad Lyons, VP Sales & Marketing.