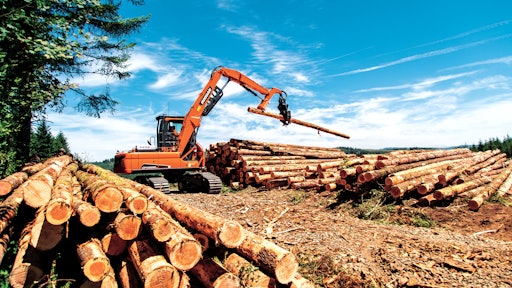 Doosan introduces the new DX225LL-5 log loader, replacing the Tier 3-compliant DX225LL model. The DX225LL-5 features a Tier 4 non-DPF Doosan engine, and a variety of performance, uptime protection, operator comfort and visibility enhancements.
Built for peak performance
Doosan DX225LL-5 log loaders are built with Doosan DL06P Tier 4-compliant diesel engines and powerful hydraulics for top-of-the-line performance in a variety of forestry applications. Log loader operators benefit from the machines' electronic power optimizing systems (EPOS) that provide four work modes to best match the application. Machine operators can select the best mode to maximize jobsite efficiency and fuel consumption.
To help save diesel fuel and lower operating costs, Doosan added an auto-shutdown system for use during non-working conditions. When configured, the feature will shut down the log loader's engine when the preset idle time is met.
Uptime protection
Doosan DX225LL-5 log loaders are built with heavy-duty thick steel doors and panels to guard components and maximize uptime protection. A fully guarded, heavy-duty upper structure is designed specifically for forestry applications such as log loading, timber harvesting, forestry access road construction and maintenance, mill/yard operations and reforestation/fire control. Enhanced heel, arm and boom cylinder guards improve uptime protection.
Heavy-duty covers help protect log loaders from being damaged. The log loader is designed with a high and wide undercarriage for improved ground clearance above stumps.
The undercarriage's track includes heavy-duty links with double grouser shoes, rock guards and full-length track guiding guards. Heavy-duty top rollers include special clean-out brackets to make routine maintenance easier.
Efficient workgroup
Doosan log loaders are designed with a durable boom, arm, and live heel and may be paired with a Doosan log grapple. The live heel and grapple are used to stabilize logs and to efficiently sort, stack and load them onto trucks. Operators can rotate the Doosan log grapple 360 degrees to precisely place logs in truck-loading applications.
When loading logs onto trucks, the DX225LL-5 has a higher vantage point and good visibility from the standard 4-ft. cab riser to the work area to help improve operator productivity. A durable cab guard minimizes damage to the cab when performing logging tasks. A hydraulic tilting cab feature provides improved transportation. Inside the cab, operators can work in comfort with a standard air suspension seat, simple controls, air conditioning with adjustable air flow and improved foot space.
Optional LED front and rear work lights are mounted to the cab to provide a well-lit area before sunrise or after sunset for improved visibility. A standard rearview camera and optional sideview camera have been added to further enhance operator visibility.
Thanks to a 7-in. color LCD screen, operators can easily monitor the log loader's engine rpm, fuel consumption, battery voltage, front and rear hydraulic pump pressure and other critical machine data. The screen also displays the rearview and optional sideview camera.
Optional equipment
Available as options for the DX225LL-5 include an optional side-entry forestry cab certified for Oregon OSHA and British Columbia WCB standards. The forestry cab is built with a guarded polycarbonate front window, side and rear windows, as well as a rear secondary exit. Additional options include a straight travel pedal, which allows the operator to travel in a straight line more easily; block heater or diesel-powered coolant heater for cold-weather starts; and additional LED lights for improved visibility.
Road builder configuration available
The road builder option is designed to create access roads to the logging area, remove stumps and install culverts. The road builder is similar to a log loader, with its heavy-duty upper structure and high and wide undercarriage. Unlike a traditional Doosan log loader, the roader builder is not designed with a cab riser. It comes with an excavator boom and arm configuration. A pattern change valve is available to quickly switch control patterns from SAE to ISO controls.
Road builders are commonly configured with a variety of Doosan buckets, hydraulic clamp and quick coupler for versatility when clearing paths for logging operations.