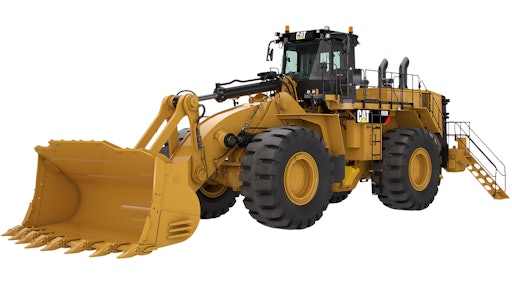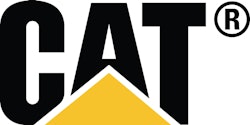 Designed to lower fuel costs and increase operating efficiency, the recently updated Cat 992K Wheel Loader features
Caterpillar's
Economy Mode operation. With the new On-Demand Throttle arrangement, the 992K automatically manages engine speed, combining the efficiency of a manual throttle with ergonomic throttle lock operation.
Caterpillar
performance studies have shown the 992K reduces fuel consumption by as much as 21% compared to the previous model series.
Production-matched to deliver efficient three-pass loading of the Cat 775 and four-pass loading of the Cat 777 trucks, the 992K now offers Cat Production Measurement (CPM), the advanced payload weight measuring system. CPM promotes cost-effective hauling by helping loader operators minimize truck under-loading and overloading.
Several new features of the updated 992K enhance operating safety. The loader is built fire-suppression ready, which simplifies installation and provides system integration to enhance reliability. Fall protection tie-offs provide fall arrest for service technicians when working on the loader. The 992K design includes turn signals and hazard lights, a bi-directional emergency gate, wheel chocks and mid-rails for enhanced safety when cleaning windows.
New performance enhancing features boost uptime and productivity. Pump efficiency monitoring improves hydraulic system responsiveness, improved fluid filtration boosts reliability, and coolant loss monitoring increases uptime. Cat Advansys G.E.T adapters maximize loader uptime by offering fast, hammerless installation and removal of ground engaging tools.
Inside the 992K cab, joystick controls provide low effort, sure operation of implements. The updated information display includes a color graphical touchscreen for intuitive machine operation. A common mining cab design for Caterpillar's four largest wheel loaders and two largest wheel dozers helps ensure parts availability and helps keep inventory costs down.
The 992K offers several design features to reduce service time. Centralized service centers and ground level access points, including the bumper service center and fluid service center, speed up service and reduce exposure to falls. The Vital Information Management System (VIMS) continually monitors machine health and provides operators, service personnel and fleet managers operating information across a wide range of critical loader functions.
Offering a net 801 hp (607 kW) rating, the Cat C32 ACERT engine powers the 992K. Depending on regional needs, it can be configured to meet U.S. EPA Tier 4 Final/EU Stage IV or U.S. EPA Tier 2/EU Stage IIA emissions regulations. The loader's 14-16 yd3 (10.7-12.3 m3) bucket capacities offer a standard lift payload of 24 tons (21.7 tonnes) and 21-ton (19.1-tonne) high lift payload.
Featured updates to the Cat 854K Wheel Dozer
Sister machine to the 992K Wheel Loader, the Cat 854K Wheel Dozer includes many of the same safety, uptime and operator environment advancements of its wheel loader counterpart. Dozer design includes fall protection tie-offs, turn signals and hazard lights, seatbelt minder, bidirectional emergency gate, wheel chocks, mid-rails and accommodations for a fire suppression system. Improved filtration and coolant loss monitoring increase dozer uptime, while the updated information display with touchscreen enhances operator productivity.