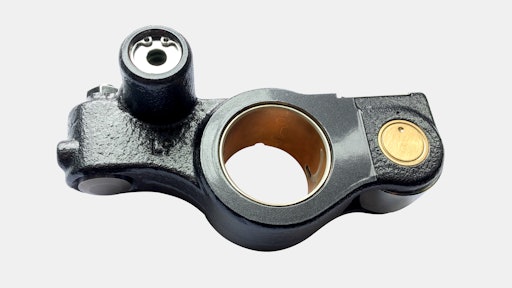 Jacobs Vehicle Systems will supply compression release engine brakes across the full range of Guangxi Yuchai Machinery Company Limited (Yuchai) K Series heavy-duty engines. 
The long-term agreement strengthens a relationship between Jacobs and Yuchai that began in 2012 with the supply of engine brakes for Yuchai's K10 and K12 engines. In 2019, Jacobs received "Best Cooperation Award of Yuchai China VI Projects" by the manufacturer. 
The new agreement sees Jacobs' products specified on both the diesel and natural gas applications of the K5 (YCK05), K8 (YCK08), K9 (YCK09), K11 (YCK11) and K13 (6K13) engine platforms. The compression release engine brakes are being manufactured at Jacobs' Suzhou facility in Jiangsu, China and supplied to Yuchai's Chinese engine manufacturing plants in Yulin, Guangxi and Wuhu, Anhui. 
"Jacobs is delighted to increase its penetration of Yuchai's heavy-duty engine range," says Harbort Wu, Director, Business Development and Engineering, Asia at Jacobs Vehicle Systems. "We have been able to present the best engine brake R&D capability and quality, adding value for customers of K Series engines. In addition, the presence of a local manufacturing capacity supports on time delivery and cost considerations." 
The Jacobs' compression release engine brake takes the load off the truck's foundation brakes, turning the power-producing diesel engine into a power-absorbing air compressor via a compression-release mechanism. It is capable of 85% of the vehicle's braking needs, increasing productivity by maintaining a higher average downhill speed and reducing slowing time/distances on flat land. It can slow a heavily loaded vehicle from 90-70 kph in 30% less time and distance than wheel brakes alone. Operators of trucks with Jacobs' compression release engine brake experience significantly reduced brake wear, the elimination of "brake fade" due to high temperatures on the friction brakes and a lower total cost of ownership.