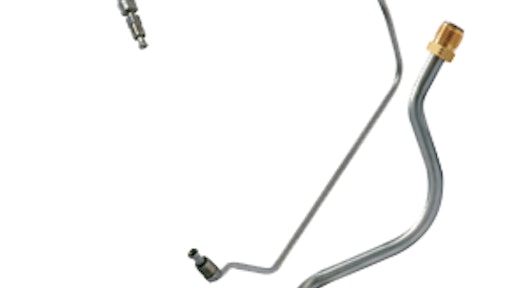 RB Royal combines hoses and tubes to create hybrid assemblies, generally designed to be used where hose or tube alone will not work or is not the best solution.
• Benefits of tube: tight bend tolerances; withstands environmental extremes; streamlined component routing; heat dissipation
• Benefits of hose: flexible; vibration or impulse dampening; accounts for tolerance stack up between components; harmonics control
RB Royal is an innovator in combining hose and tube to create solutions that meet our customers' most challenging applications and provide additional value. Combination assemblies or "hybrid "assemblies are specifically designed and manufactured for situations where neither a hose assembly nor a tube assembly alone can meet difficult application requirements. Our ability to permanently attach hose and tube in the same assembly is a core competency at RB Royal.
Unlike the limitations of catalog-based solutions, the RB Royal solution is truly custom as we manufacture the product specific to our customer's unique needs.
Typical situations where hybrid assemblies are useful:
Routing hoses near exhaust manifolds and other sources of extreme heat
A portion of flexible hose is needed to dampen vibration in a hard tube system
Flexibility of a hose assembly is needed, but certain areas are subject to abrasion that would damage the hose (and hose wrap is not an option)
Request More Information
Fill out the form below to request more information about
Hybrid Assemblies