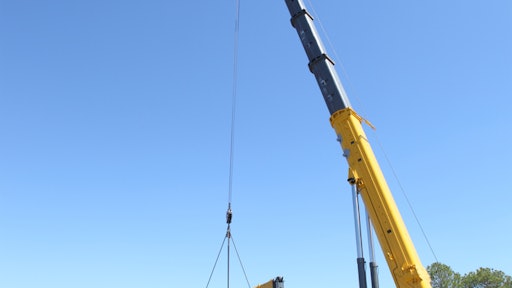 The first job for Texas Crane Services' new GMK7550 all-terrain crane was a dam maintenance project in Bastrop County, TX. The 550 USt crane lifted a Grove RT530E-2 rough-terrain crane onto a barge. The RT-equipped barge then was used to replace stop logs on the dam of the Lake Bastrop reservoir.
The 4,000 ft. long, 85 ft. high earth-filled dam is inaccessible to cranes from land, which led San Antonio-based Texas Crane Services to plan the barge approach employing both the all-terrain and rough-terrain cranes.
Sterling Frymire, senior vice president for Texas Crane Services, says the uneven terrain and size of the dam required an innovative solution.
"We had a few meetings at the lake to determine how we could get a crane close enough to the dam to move the logs," says Frymire. "Once we saw it was impossible to reach the dam from land, we decided to use the rough-terrain crane on the barge."
For the pick, the GMK7550 worked at a 105 ft. radius. It was configured with 148 ft. of main boom and used 120 USt of counterweight to lift the 30 USt capacity rough-terrain crane.
Capacity was an obvious priority when selecting this crane to perform the lift, and the GMK7550, with its 550 USt maximum capacity is the strongest all-terrain crane in the Grove product line. However, because of the nature of this job, working at a 105 ft. radius to place a heavy load, counterweight was also critical. The GMK 7550 is available with 264,500 lbs. of counterweight – all of which was used for this lift. The crane features a hydraulic counterweight installation and removal system, which greatly improves rigging and set-up time.
Once the Grove RT530E-2 was placed on the barge, it was floated across the lake to the section of the dam that needed repair. Positioned next to the dam, the RT530E-2 was able to replace the logs safely and efficiently.
Tony Turner, president of Texas Crane Services, says the capacity of the GMK7550 was one of the determining factors in the purchase of this particular crane, but after sales support was equally important.
"Before we purchased the GMK7550, we visited the Manitowoc factory in Shady Grove," he says. "We toured the facility and had the chance to visit with Manitowoc Crane Care personnel. After that visit, we were confident that Manitowoc, along with our local dealer, Anderson Equipment, could provide the support we needed in the field."
The GMK 7550 is Manitowoc's largest all-terrain crane and the highest-capacity crane in the Texas Crane Services fleet.
The crane features a 197 ft. five-section boom and an 82 ft. to 259 ft. optional luffing jib.
"We're very excited about the new markets we'll be able to serve with the higher-capacity crane," says Frymire. "Customer demands for capacity and reach are only increasing, and we expect to keep this crane very busy."