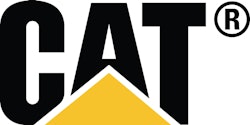 Visitors to the Caterpillar MINExpo exhibit had the opportunity to learn more about the company's strategic direction for natural-gas powered products. A portion of the exhibit was devoted to the Cat Liquefied Natural Gas (LNG) product initiative. Experts were on site to talk about how customers can achieve economic benefits with LNG-powered mining equipment and locomotives.
Chris Curfman, Caterpillar vice president with responsibility for the Mining Sales and Support Division, says demand for natural-gas powered equipment is growing worldwide. "Natural gas is a clean burning, economical fuel that is readily available to the majority of our mining customers worldwide," he says. "LNG-powered products promise to reduce our customers' fuel costs. As a result, we look forward to being able to offer this option to the global mining community."
The company's first LNG-powered products are expected to include three large mining trucks—the Cat 793, 795 and 797—as well as locomotives produced by Electro-Motive Diesel (EMD), a subsidiary of Progress Rail Services, a Caterpillar company.
According to Luis De Leon, Caterpillar vice president with responsibility for the Mining Products Division, the large trucks are in the early stages of development with commercial launch expected within five years.
Development of the new locomotives is also underway and should be completed in the same timeframe, says Billy Ainsworth, a vice president of Caterpillar and president and CEO of Progress Rail and its subsidiaries.
To accelerate the product development process, Caterpillar and EMD are partnering with Westport Innovations Inc., a global leader in natural gas engines. The company brings its Westport high pressure direct injection (HDPI) technology, proven in on-highway applications, to the relationship, complementing Caterpillar's strengths in engine and off-road equipment development and EMD's locomotive expertise.
"Together we can bring a new generation of LNG-powered products to market efficiently while meeting our customers' very high expectations for quality, performance and value," says De Leon.
In addition to offering new LNG products, Caterpillar and EMD are developing retrofit solutions for those who opt to convert existing mining trucks and locomotives to natural gas. Longer term, the company expects to use natural gas technologies in other mining products as well as off-road engines for a variety of electric power, industrial, machine, marine and petroleum applications.