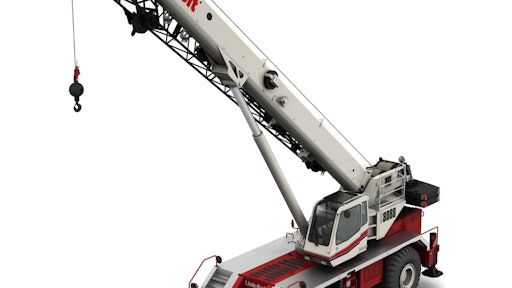 Link-Belt's 80-ton (80-mt) RTC-8080 Series II was showcased at CONEXPO 2014 in Las Vegas, NV March 4 to 8. The RTC-8080 Series II rounds out Link-Belt's line of mid-range rough terrain cranes and offers all of the cutting edge features that customers and operators have come to expect from the Series II line.
"The RTC-8080 Series II has been great for our bare rental owners across the globe. We have had a strong order total from our domestic distributors as of the first quarter of 2014 and have had export units delivered to Australia, Colombia and Peru," says Product Manager for Rough Terrain Cranes, Brian Smoot.

New Features
In accordance with EPA Tier 4 Final and EU Stage IV emissions regulations, Link-Belt will now offer both a fully emission compliant power option as well as an export version that remains Tier III. Both versions of the engine are Cummins QSB 6.7L 270 hp (201 kW).
Notable new features since the RTC-8080 Series II was introduced two years ago include: remote controlled high intensity boom floodlight, a standard camera package and aluminum decking. The remote controlled boom floodlight attaches to the end of the telescopic boom base section and can be used as a spotlight in nighttime settings. Camera packages enhance on-board site monitoring and include cameras located on the right side of the upper frame as well as a winch camera, mounted between the two winches on the upper.
Boom
The RTC-8080 Series II comes with a full-power, 41 to 127 ft. (12.5 to 38.7 m) four section boom with market-leading capacity for its class. The RTC-8080 Series II also features the extend system which incorporates the two mode telescope proportioning system known as A-max and standard for optimum strength and stability charts. To make maintenance easier, the design incorporates Link-Belt's standard Teflon wear pucks impregnated in the wear pad surfaces so the boom requires no grease.

Fly Options
There are three on-board fly options available that feature four manual offset positions of  2, 15, 30, and 45 degrees. One of the three on-board fly offerings is the three-piece, bi-fold lattice fly, which features a 10 ft. (3 m) integrated fly that was first introduced on the RTC-80130 Series II and HTC-3140LB cranes. No more hauling a separate specialized fly to the jobsite and then trying to figure out an easy way to install it – everything you need stows neatly on the crane.
Frame
The carrier of the RTC-8080 is a box-type construction, torsion resistant, with a welded construction made of high tensile steel. The frame is equipped with front and rear towing and tie-down lugs, tow connections and access ladders. The RTC-8080 Series II was able to meet all Tier 4 Final requirements and still maintain six points of access to the flat carrier deck. Front and rear lower steps can be folded to avoid damage during transport.
Safety
Once on deck, routine checks on powertrain components and fluid levels are a snap with large swing-out doors that reveal the entire engine compartment. There is also an access ladder incorporated into upper sheet metal allowing access to an upper work platform with a folding guardrail.
The operator's cab features a large viewing window that minimizes blind spots and has well placed controls and readouts, including Link-Belt's Pulse. Link-Belt Pulse is an in-house designed, total crane operating system that utilizes an in-cab display as a readout and operator interface for over 20 different crane diagnostics including the rated capacity limiter, wind speed, boom length and angle, radius of load, and crane configuration just to name a few.
Other standout features of the RTC-8080 Series II and all Link-Belt Series II cranes
Confined Area Lifting Capacity or CALC feature allows for three  different outrigger positions (fully extended, intermediate and fully retracted).
Electronic throttle for improved throttle response
Hydraulic disc brakes for both service brakes and parking brake
Single or dual axis joystick controls for smooth, precise control
Weather proof electrical connectors and relays throughout for outstanding long-term reliability
Color coded and numbered wiring is protected by a flame retardant polyethylene insulation
Full lighting package includes cab lights, headlights, turn indication, marker, backup, and stop
No deducts in capacity when telescoping loads
Powder-coated tubing is utilized throughout the crane
Hand-held outrigger controls
Pre-painted components and plated hardware
O-ring face sealed hydraulic components with staggered fittings
Well organized electrical and hydraulic routings throughout
Supported 24/7 by Link-Belt Preferred including online manuals, literature, a ground bearing calculator, and 3D Lift Plan