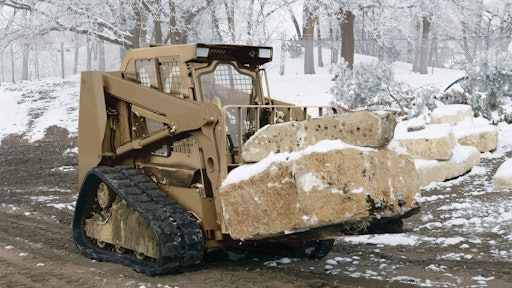 Skids steers and compact track loaders have often been called the "Swiss Army knife" of construction equipment. The compact and versatile machines perform many jobs for militaries worldwide. Recently, the U.S. Army recruited several thousand of them from Case Construction Equipment.
Case is manufacturing and shipping model M400W skid steers and model M400T compact track loaders from its Wichita, KS plant. Case is providing the equipment as part of a $160 million contract with the U.S. Army TACOM (Tank-automotive and Armaments Command). Depending on contract renewals, the program could span 10 years.
The CNH manufacturing plant will produce and ship more 1,900 skid steers and nearly 1,500 compact track loaders. At a time when sales of this type of machine have slowed due to the recession, the project is a boon to the Wichita plant and the local economy.
"Case earned this award based on our ability to satisfy all key TACOM criteria," says Pat Hunt, director, Strategic Accounts, Case Construction Equipment. "This includes the ability to support the vehicles with parts and technical services globally, the technical performance and reliability of our machines, and our past performance in supporting other military contracts."
Case manages all military business directly through its Strategic Accounts sales force. Winning a government contract is quite a bit more involved than selling to a local landscaper. According to Hunt, "the military bidding process varies greatly in that it requires a team effort throughout the organization. Resources from product development, engineering, purchasing, manufacturing, sales, marketing, even human resources — with personnel requirements for training or product support — may be written into the contract. So it may require the efforts of our entire company to meet the government's needs."
Meeting military requirements
The M400W and M400T are equivalent in size and general specifications to the civilian model 420 Series 3 skid steer loader and 420CT Series 3 compact track loader, respectively.
To ensure fitness for military applications, several test machines and attachments were put through extensive testing:
• Drop-tested machines from a crane
• Slung machines and attachments from a helicopter
• Parachute-dropped machines and attachments from a military aircraft
• Verified radiated electronic emissions (to confirm non-interference with communications)
Each M400W skid steer loader and M400T compact track loader built under the TACOM contract is shipped with a full complement of attachments — including an auger with fittings for two sizes, a 4-in-1 multi-purpose bucket, pallet forks and a hydraulic hammer.
The machines also include four tie-down and lift points to meet requirements for various means of transport, including lifting by helicopter and air-dropping by parachute; a weapons rack; and a 24-volt starting and charging system, providing the ability to power auxiliary equipment.
Other unique features include a fuel injection pump that enables the machines to use JP-8 military-blend jet fuel (commonly available on bases, alleviating the need to house multiple fuel types); a military-spec NATO slave cable receptacle that allows the machines to provide an electric jump-start to other military vehicles, a -25 F cold start capability and Chemical Agent Resistant Coating (CARC) finish on all exterior painted surfaces.
Case ships the attachments with each machine in a custom-designed container for storage, security and rapid deployment. The attachment container includes four lift and tie-down points for transport.
The program is expected to run through 2017, when by which time Case's compact equipment line will undoubtedly have seen at least a few revisions. The military versions will have none of that, however: "The most challenging aspect is maintaining the same vehicle configuration for the life of the contract, even as we upgrade our commercial products," says Hunt. "We are not able to incorporate the product improvements we develop as we do for our commercial customers."
Strong military support
The skid steer and compact track loader project is the latest of several contract awards to Case from the U.S. military, totaling more than 5,000 machines.
For the last couple of years, Case has fielded armored and armor-ready backhoe loaders under a contract with the U.S. Army. Nearly 700 units were built at the Burlington, IA, plant under a contract that was completed in May. Some of these machines have been deployed to support the U.S. Army in Afghanistan and Iraq.
Other current Case contracts with the U.S. military include refurbishing more than 300 M4K rough-terrain forklifts, and more than 550 MW24C wheel loaders. The company provides refurbishing for military equipment at its Case Remanufacturing Center at Fort McCoy in Wisconsin, the only facility of its type on a military base.
During the past five years, Case has remanufactured more than 750 machines. Working with industry partners, Case also runs a reman facility similar to Ft. McCoy's in theater of operations. Originally established in Balad, Iraq, Case is transferring the operations' employees, equipment, tooling and inventory to a site in Afghanistan.