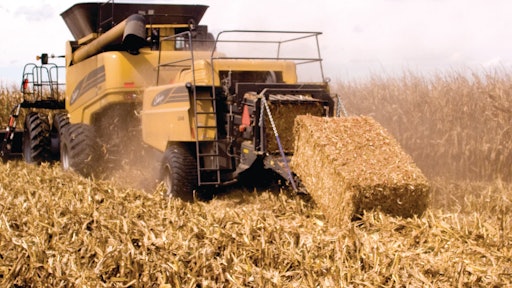 In the midst of some tough economic conditions, the Assn. of Equipment Manufacturers (AEM) built a good foundation for its new Ag Connect Expo trade show.
During the event, held in Orlando, FL, January 12-15, many of the exhibitor displays and educational sessions focused on green issues, with methods of harvesting and transporting corn stover, wood and other material for cellulosic ethanol production being a key component.
Case IH hosted a panel to discuss the definition of agricultural sustainability, and describe current and future solutions. According to Rob Zemenchick, agronomist and Case IH tillage marketing manager, sustainability combines agronomic, environmental and economic aspects. "I think of it as an abundant, safe food supply that's produced profitably in an agronomically sound manner that's good for the environment."
The panel talked about the sustainabilty of corn ethanol, and the public perception that its production is driving up the price of breakfast cereal. "We're not going to put all the food down gas tanks," Zemenchick says. "That's why we're looking at cellulosic ethanol, and using other feed and fodder crops."
John Bohnker, Case IH high horsepower tractor marketing manager, says the crop genetics today are producing more residue. "As we increase yields from 150 to 200, 250 and up to 300 bushels —which is the goal over the next 20 years— there's a lot of residue with that. If we take a little bit of that extra residue off the field and put it into energy, we're still going to return more residue back to the soil than we did five years ago."
Zemenchick says Case IH is always looking for opportunities to work with growers to provide value. "It wasn't that long ago that we didn't have precision ag technology such as AIM Command. And who would have considered biomass harvesting out of the back of a combine? We used to call that trash. Now we have enzymes for cellulosic ethanol making it commercially viable to transform trash into energy."
Turning trash into cash means input costs must be kept as low as possible for any profit to be derived by the farmer. Solutions to the logistical challenges of harvesting and transporting biomass must also be profitable to the OEMs.
Regular corn harvesting is a logistics-intensive process, as today's combines can easily out-pace the number of trucks available to haul grain off the fields. "When you start taking two or three tons of biomass material off each acre, if the process isn't seamless, it's going to drive people crazy," Bob Matousek, AGCO's manager of development & research engineering, said during a roundtable hosted by AGCO Corp.
Developing revolutionary new machinery to support farmers and ethanol producers in this emerging market is not always financially possible. Engineering must look for ways to evolve existing technology into a practical method of biomass collection.
AGCO displayed a prototype biomass harvesting system in Orlando, born from its experience with combines and square balers. It was part of an expansive booth that also showed AGCO's E3 engine technology as well as a diesel-over-electric AgChem RoGator, the latter an engineering prototype intended to test the concept, rather than show the future of the RoGator line.
"Across the country the cellulosic biofuels industry is providing our customers with a new revenue opportunity. But, as this market develops, equipment solutions are needed to help growers efficiently harvest and transport high-tonnage biomass feedstock to cellulosic biofuel processors," says Dean Morrell, product marketing manager for hay and forage harvesting. "AGCO is committed to developing practical and efficient solutions growers need to take advantage of these income opportunities."
The biomass harvesting system in development at AGCO collects and packages corn stover, cobs and leaf material into a 3x4 ft. square bale in one pass.
"We believe this system will be easily adapted to other sources of biomass such as cereal grains," says Morrell. "It also provides a clean bedding for beef and dairy operations."
Though not yet commercially available, the system is expected to be offered for all Class VIII combines.