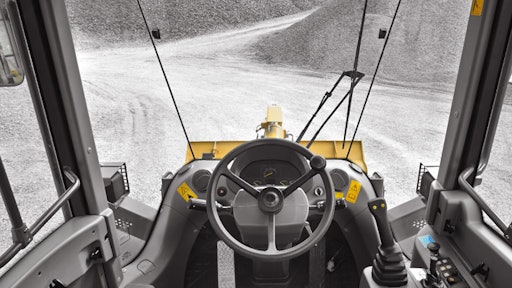 Does reliability have to come at a premium price? According to SDLG, it doesn't. The manufacturer is addressing an entirely new customer base—those that want to own a new vehicle but don't need the advanced and high priced technology to get the job done. Affordable doesn't have to mean previously owned or rented equipment anymore.
When the agreement was made with Volvo to purchase SDLG in 2007, it was believed that Volvo would benefit from SDLG's strong foothold in the Chinese market and SDLG would be able to take advantage of Volvo's product development, quality and internal synergies.
In the early stages, the value brand was believed to only be required in developing markets, consistent with Volvo's strategy for the BRIC countries (Brazil, Russia, India and China). "That was the first focus of SDLG's value brand," explains Alan Quinn, Director, SDLG North America. "But, we started to see SDLG aggressively growing in the export markets. For example, in Brazil, Chinese wheel loader sales went from 10 to 50% of the market in just five years."
The unexpected growth prompted Volvo to reevaluate other opportunities for the value products beyond the developing countries and investigate who the customers were and why they were buying this equipment. "It helped to look at the market in a different way, because traditionally premium equipment manufacturers say the majority of their customers use the equipment for over 1,500 hours per year. By looking at the customer pool in a different way, it allowed us to see that about half of the customers that buy wheel loaders (either new or late-model used premium machines) use the vehicle for only 1,000 hours per year or less," says Quinn. The perspective helped SDLG see a larger part of the market that was looking for a utility piece of equipment as opposed to a highly spec'ed, high production piece of equipment.
"We think half of the new equipment that gets sold is resold within five years," Quinn says. "Any new piece that gets resold, we are a viable alternative for because by definition those people are looking for a price point machine."
The launch of the SDLG value vehicles for developed countries may also capitalize on the strong rental market, where the customers might be more interested to own an affordable and reliable vehicle rather than invest in rental costs.
"We are selling a standardized product," says Quinn. "Beyond that, we tried to make sure we understood the customer and their needs, and we came to a simple summary: If a customer walks in and is talking about how much the machine will make him, he needs to buy a premium piece of equipment because the equipment is part of his whole business structure. It's his productivity, his fuel efficiency, his uptime, etc. He thinks about his equipment as part of his total business chain.
"An SDLG customer walks in and talks about how much the machine is going to cost him, because it is not a productivity piece, it's a support piece. He's not worried about it being the most productive, it just has to be reliable. It's not going to be working all day, and it's not going to be used for that long, but it needs to be available when he needs it. In that way, it's a lot like renting equipment."
When does value make sense?
There are certain industries and applications where the SDLG value brand makes a lot of sense, particularly those that depreciate the vehicles quickly such as corrosive environments. "Of the new vehicle business, we think probably 10% of the customers buying new premium equipment are in corrosive industries or have applications that don't require a new premium, but they want a reliable new machine," says Quinn. "Before, they didn't have another option. Now they do."
Sylvite, a leading fertilizer distribution company in North America, moves large quantities of industrial grade and commodity fertilizers around the region, and in the process, its equipment takes quite a beating. Due to the inevitability of equipment degradation due to the prolonged and extensive chemical exposure, one branch of Sylvite is turning to SDLG wheel loaders to mitigate damage.
The Lakeland, Florida-based Sylvite branch purchased an SDLG LG959 in lieu of a more expensive machine. With fewer electronic parts subjected to the corrosive materials, there is much less damage to the wheel loader – and to Sylvite's bottom line. Fewer electronics means fewer computer components and less wiring – essentially, less to be damaged from chemicals. Sylvite is first able to save money with its value-priced SDLG wheel loader over a more expensive premium machine, and again saves money with less repairs and maintenance.
Pete Marovich, General Manager of Sylvite, says the company chose an SDLG wheel loader for its value pricing and because of the damaging nature of its work with corrosive chemicals.
Quinn agrees, "The SDLG proposition is that it makes quality wheel loaders at value prices. They don't have the features of premium machines which, as shown in the case of the corrosive materials industries, is a major plus."
Beyond damaging applications, lower operation hour situations are also where SDLG makes sense. "If you're going to be in the machine all day working long hours, you'll want the most fuel efficient, highest productivity and most comfortable vehicle available, which is the premium market," says Quinn.
When it comes to government equipment, value and versatility are key. In Canada, for example, municipalities are utilizing SDLG wheel loaders for road projects and material handling.
Sarnia, a municipality in the Saskatchewan region, purchased an SDLG LG938L wheel loader for loading gravel for road projects and performing other tasks, such as snow removal and waste management for the region.
Kevin Fry, Territory Manager at Redhead Equipment, from which the machine was purchased, says that initially, Sarnia had been in the market for a used machine, but opted for a brand new SDLG wheel loader for its value pricing and solid warranty.
"Sarnia doesn't have to run a wheel loader 24/7, it just needs to complete individual projects in a timely manner, and needs a loader ready to go in a moment's notice," Fry says. "It may only get 300 hours of work this year, so it makes good sense for the region to purchase an SDLG wheel loader, which costs less than premium machines."
Remember to ask, what does my customer need?
The low cost of the SDLG value brand product line is due to two factors: it is built in China and is a lower spec machine. "The Chinese are very creative in finding ways to deliver 80% of what you want at 20% of the cost," Quinn says. The U.S. culture tends to cater to the premium contractor, which calls attention to a possible habit of overdesigning vehicles unnecessarily. "As designers have continued to design for the 'cream of the crop,' they have pulled away from what the majority of customers really need. That's what has opened the door for us to bring a product that is more consistent with what people need to get a job done," he says.
And, while the vehicles are extremely standardized (with manufacturing lines that are producing around 100 units per day and as high as 180 per day), there is opportunity for some customization for specific needs. A boom suspension ride control can be added, for example. "One of the ways we keep the cost down is to have a highly standardized product, so that is a limitation for us," explains Quinn. "Dealers can do modifications for specific applications, but we tend to try and run the manufacturing lines as fast as we can to keep the cost structure in place."
Another thing to remember is there are a number of aftermarket add-on kits for systems such as GPS and telematics to customize the machine further after it leaves the factory floor. "Part of what we are doing here is making sure we aren't adding things people don't want or need. But, even with the boom suspension option we have, the machines come pre-wired, so it's a dealer add-on, you don't have to order it from the factory that way. Everything we're doing is to make it flexible at the dealership, but we're going to bring in a base model," Quinn says.
There are several levels of technology that can be equipped on the vehicle platform depending on the region it's being shipped to. The premium level of the SDLG line is coming to the North American market to address higher emissions regulations versus China, for example.
The premium Volvo brand and the SDLG value brand are offered through the same dealer network with different value propositions in an effort to satisfy every customer's needs and wants when getting the job done.