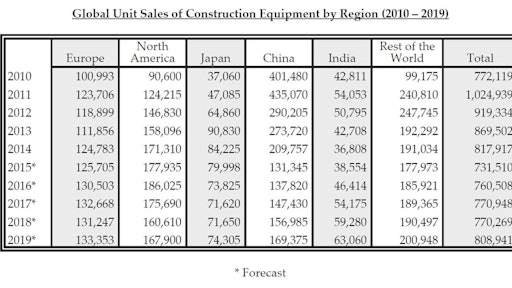 Over the past few years, there have been several instances of positive (and hopeful) predictions for the growth of a market in the upcoming year, followed by unfortunate and sometimes surprisingly low performance. A few silver-lining equipment markets have had drudgingly slow progress, but progress nonetheless. Frankly, it's been a long time since the health of the construction and mining industries were strong enough to give equipment manufacturers long-term confidence, but that could be changing as several key growth markets continue their progress while others finally stabilize.
"There can be no doubt that 2015 was a tough year for the global equipment industry, due to slowing world economic growth and weak commodity prices," says David Phillips, Managing Director, Off-Highway Research. "Unit sales fell to their lowest since the crisis years, and the drop in the Chinese market was particularly brutal. However, there were improvements in several developed countries which helped offset some of these losses."
Construction Equipment Market
According to Off-Highway Research1, global sales of construction equipment are forecast to grow 3.9% in 2016 to 760,508 machines (as of January 19, 2016)2. The growth in 2016 is expected to occur in the European, North American and Indian equipment markets.
Europe has been gradually improving since 2014, and that is expected to continue into 2016. The Committee for European Construction Equipment (CECE) noted that the European construction equipment sector had seen its business climate improve for the third consecutive month in January, finally reaching positive numbers. In a recent news release, the CECE stated, "While there is no big upturn in sales observable at the moment, the positive momentum on incoming orders suggest an improvement of sales in the next months.
"In Europe, Germany is now the market where manufacturers expect good momentum in the near future, followed by Spain and Portugal. All other Western and Central/Eastern European markets are also expected to continue their improvement, only Russia and Turkey are seen more pessimistic (read more on the Russian construction market at www.oemoffhighway.com/12178455). Beyond Europe, the markets that spread optimism are North America—even more than in the last six months—and India. China and Latin America remain the troubled spots, but also in the Middle East, growth seems to be over for the near future."
As for the Chinese market, it has seen equipment sales fall 70% over the past four years, however Off-Highway Research sees sales finally stabilizing in 2016 with an expected 4% uptick. Japan's construction equipment sales are expected to fall due to a drop-off in reconstruction work after the 2011 earthquake and Tsunami coupled with its government's economic stimulus programs coming to a close.
"Off-Highway Research's forecast is for the start of a gradual return to health in the global construction equipment market in 2016. However, as has been the case since the crisis years of 2008 and 2009, business confidence remains fragile, and the uncertain geopolitical outlook around the world could have a negative impact on the sector," concludes Phillips.
Mining Equipment Market
While the construction market continues its progress, a positive outlook for mining's future is further out. Mining equipment sales are still falling, according to the VDMA Mining Assn., an affiliate of the German Engineering Federation (VDMA, Verband Deutscher Maschinen- und Anlagenbau). However, it is optimistic that 2017 will bring a return to profitable equipment sales in Germany.
On a global scale, analysts from the association expect things to improve in 2016 and 2017. History shows that customers delay purchasing decisions until bauma when new equipment is launched and can be previewed by potential buyers.
Data provided by the VDMA Mining Assn. shows that the rate at which mining equipment sales are dropping is slowing. In 2014, worldwide exports of mining machinery were $30.3 billion (€27.9 billion), down 10.2% from 2013. Germany in 2015 saw a drop of only 3% in machinery production which reflects a much lower annual drop in sales compared to the 29% drop from 2013 to 2014.
Interestingly, most exports (17%) from Germany go to the Mediterranean and the Middle East, particularly Saudi-Arabia. "Together with Iran, governments there want to reduce their dependency on oil," says Dr. Michael Schulte Strathaus, Chairman of the Mining Assn. "Mining is being developed as an additional mainstay."
In the short-term, the mining sector can remain cautiously optimistic about the future, as an increase in customer inquiries is being reported by the VDMA Mining Assn., which indicates customers are starting to look at buying new equipment. The association also expects that demand for metallic and raw mineral materials extracted in hard-rock mining will increase substantially as global production of alternative energies continues to expand.
Another reason for this cautious optimism, says Schulte Strathaus, is in the need for raw material producers to reduce costs. "In order to achieve profits in the current low-price environment, they have to increase the efficiency of their machinery and plant, and thereby reduce their costs." A global trend towards increasing safety also benefits the sector, he reports. Many countries, like China and Turkey, are busy making their coal mines safer through advanced equipment. And with regards to the technology required for these efforts, the German mining industry—at least in underground mining—is the global leader.
The sector seems therefore to be regaining optimism in time for bauma in Munich, and that is also being backed up by the registrations coming in from exhibitors in this area. Mareile Kästner, Exhibition Director of bauma, explains, "The current difficult situation in the sector is not being reflected in the registration figures for exhibitors at bauma. The interest from mining companies and manufacturers of mining products in exhibiting at bauma is still very high." |
1Off-Highway Research is a management consultancy specializing in the research and analysis of international construction, and agricultural equipment markets, and is the largest of its kind in the world.
2Data for 2015 quoted in this press release are provisional figures. Final figures will be published to Off-Highway Research's subscribers in March, and will form part of the updated set of forecasts presented at bauma.
Off-Highway Research will exhibit at bauma in Hall B5, Stand 227/B. The show will see it present updated forecasts for the global industry across its Chinese, European and Indian subscription services, its Chinese, Indian and International databases and the global Volume & Value service.
For more information, contact:
David Phillips, Managing Director, Off-Highway Research at
[email protected]