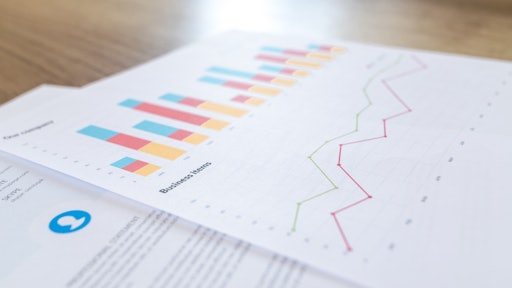 Pexels
Quarterly reports for the first 3 months of 2019 indicate the year is off to a good start. Both OEMs and component suppliers have reported strong results compared to the previous year.
Cummins Inc., for instance, says it saw an 8% increase in first quarter revenues compared to the first quarter of 2018. The company says this was due to increased truck production in North America, as well as stronger demand in the global construction market. Sales in North America increased 13% while international revenue rose 1%.
Due to its current financial status, Cummins says it will maintain its 2019 revenue guidance to be flat to up 4%. This will be driven primarily by increased demand in the North American on-highway market.
Engine manufacturer DEUTZ Corp. also reported a strong start to 2019 with revenue up 9.2% in the first quarter. The company says the agricultural machinery segment was a key factor in this, as revenues in that market increased 16.0%. "We have surpassed the outstanding results for revenue and earnings achieved in the first quarter of last year. We are also reaffirming the forecast for 2019 as a whole on the basis of the high level of orders on hand. Our new strategy for China and our initiatives aimed at increasing profitability and embracing new technologies mean that DEUTZ is well positioned now and for the future. DEUTZ remains on a growth trajectory and we are well on the way to achieving our medium-term targets for 2022," said CEO Dr. Frank Hiller, in the press release announcing the company's first quarter results.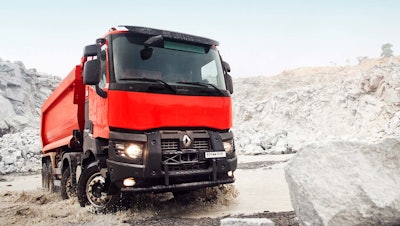 DEUTZ says the challenging macroeconomic and geopolitical environment—for instance issues with tariffs—may be a factor on full year results, but the company's Board of Management has confirmed its forecast for 2019; it anticipates revenue will increase to over €1.8 billion.
Drivetrain manufacturers such as Allison, Dana, and Meritor all reported increased revenue for the first 3 months of 2019. Both Allison and Meritor say higher demand in the North American on-highway market were key drivers for their revenue increases during the quarter.
Read more:
Allison First Quarter 2019 Sales up 2%
Meritor Reports Second Quarter Fiscal Year Results
Dana Announces Record First-Quarter 2019 Financial Results
The on-highway market continues to be strong; in the European market commercial vehicle registrations increased 5.1% for the first quarter of 2019 with almost all segments reporting gains. In North America, orders have slowed in recent months due to build slots being mostly full for 2019. FTR reports Class 8 orders in March were 8% below February and down 67% on a year-over-year basis. Despite this, demand is still strong, which helped both OEMs and component suppliers during the quarter. "Even though the economy and freight growth appear to be slowing, it has not impacted OEM line rates as of yet. Fleets are still putting more trucks in service and competing in a still decent freight market. It is expected that Class 8 sales will moderate sometime before the end of the year, as industry capacity begins to catch up with the freight surge that began in 2018," said Don Ake, FTR Vice President of Commercial Vehicles in a press release announcing the March order rates.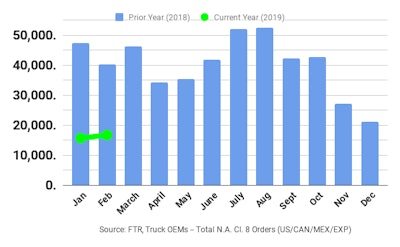 Read more:
Strength in Commercial Vehicle Industry Varies by Sector
Class 8 Natural Gas Truck Retail Sales Up 44% Month Over Month
On the OEM side of things, many manufacturers have reported strong first quarter results. Volvo Group has reported a 20% increase in net sales for the quarter; adjusted for currency movements its sales increased 12%. The company says all business segments contributed to this growth.
CNH Industrial says it achieved record net income during the quarter, despite having a decrease in sales in some of its market segments. Agriculture's net sales decreased 4% compared to the first quarter of 2018 but was up 2% on a constant currency basis. Sales volumes were aided by replacement demand in the North American row crop sector, as well as sustained demand in Brazil.
Its construction segment saw a sales decrease of 6% (down 2% on a constant currency basis) due to selective inventory destocking in CNH's North American dealer network. Commercial and specialty vehicles decreased 3% (but up 5% on a constant currency basis).
CNH says the general sentiment in the agricultural end-markets remains muted in the short-term, primarily as a result of uncertainties related to unresolved trade tensions, the spillover implications of recent negative weather events in Australia and Northern Europe, and geopolitical and macroeconomic uncertainties. Positive indications exist in the North American non-residential construction industry, as well as in the healthy end-user demand in Europe for light-duty trucks, and the acceleration of the LNG heavy-duty trucks penetration.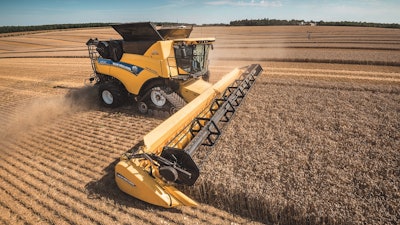 "Farm economics remained challenged across many of the major crop-producing regions and global trade tensions continue to weigh on farmer sentiment," said Martin Richenhagen, AGCO's Chairman, President and Chief Executive Officer in a press release announcing its first quarter results. "Global farm equipment demand continues on a slow recovery path following an extended period of decline. Planting across much of the U.S. farm belt is delayed due to cold, wet weather and flooding in portions of the Midwest. Farmer concerns over the lingering trade disputes with China and the resulting increase in soybean inventories has curtailed replacement demand from row crop farmers. North American industry retail sales decreased in the first three months of 2019 compared to the same period in 2018. We expect North American industry retail tractor sales to increase modestly in 2019 with improved retail sales in the row crop segment and flat retail sales of small tractors compared to last year."
Overall, AGCO says net sales increased 6.5% during the first quarter, with gains in most regions in which it operates including North and South America, Europe and the Middle East.
While it's hard to predict how the 2019 financial year will eventually pan out, first quarter reports indicate conditions are good currently and should remain so in the coming months.
Read more first quarter financial reports highlighting the current market conditions within the heavy equipment industry:
Parker Reports Fiscal 2019 Third Quarter Results
Trimble Reports First Quarter 2019 Results
SKF Releases First Quarter Report 2019
SSAB Reports First Quarter 2019
Zoomlion Posts 52% Jump in 2018 Profit
Even more market information can be found on our Market Analysis channel, including our Equipment Market Outlook data provided by ITR Economics.