Agritechnica 2019 is offering start-ups and other recently established innovative companies an attractive opportunity to present their ideas and products to the global agricultural sector. The new DLG-AgrifutureLab, which debuts at the world's leading trade fair for agricultural machinery in November, aims to be the international meeting place for newcomers in farming technology.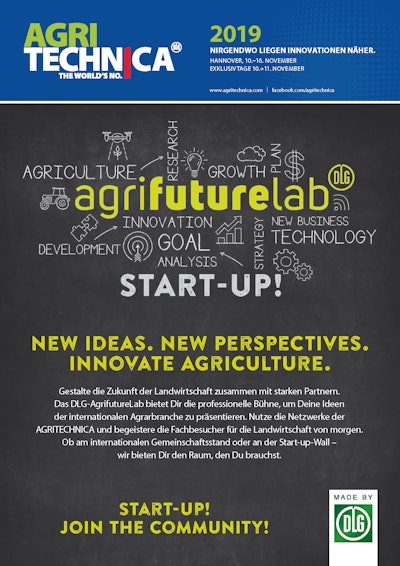 Taking place at Hanover's Exhibition Grounds, in Germany, from November 10-16, 2019 (with preview days on November 10 and 11), Agritechnica has established itself as the meeting point for decision-makers and the leading business marketplace for those involved in crop production. It is not only a showcase for global agricultural technology businesses and a forum for the discussion of the future of farming, but also the leading platform for innovation in the sector.
Agriculture has proved a fertile breeding ground for start-ups in recent years, as new technologies, and new uses for existing technology, have emerged. For example, sensor technology, cloud data storage and the introduction of smartphone apps that make use of "big data" and clever algorithms have the potential to revolutionize the way farmers manage their crops. The internet and social media mean that any company with a compelling offering can get its products in front of farmers, and start-ups with the right idea at the right time can build new markets where none existed before.
With its new DLG-AgrifutureLab, Agritechnica organizer DLG (German Agricultural Society) is specifically targeting international companies and start-ups that want to provide answers to the issues that will face the agricultural sector in the future with their fresh ideas. Germany's Federal Ministry for Economic Affairs and Energy has already announced it will be sponsoring the participation of innovative companies from the trade fair's home nation on its stand.
"The DLG-AgrifutureLab is the meeting point for start-ups and strong partners from agriculture and agribusiness, and with this special show we will be offering attractive opportunities for presenting new ideas, forging networks and finding investors," says Agritechnica Project Manager Marie Servais, who is particularly excited about the new feature's infotainment concept. "With this new format, Agritechnica will underscore its innovation leadership, and thrill visitors to the world's leading trade fair for the future of agriculture."
Start-ups and companies less than 2-years old from the global agricultural technology sector can participate in the DLG-AgrifutureLab and will have the opportunity to present their business ideas and specific projects on a "start-up wall" or on the joint international stand. There will also be a networking area that offers space for discussions with experts.
FOODnext adds value in the food marketing chain
The FOODnext conference, which takes place on November 11 at Agritechnica 2019, will offer a new and additional forum for professional exchange between agricultural machinery and digital farming experts, and the start-up scene. FOODnext is a think-tank project that aims to highlight the trends and stimuli that will shape the development of the food industry and add-value in the food marketing chain in the coming years and decades.
The objective of the FOODnext conference is to establish a global network of decision-makers in the agricultural and food sectors. It will provide a valuable platform for information exchange between companies of all sizes, from multinationals to small and medium-sized enterprises, innovators and research.