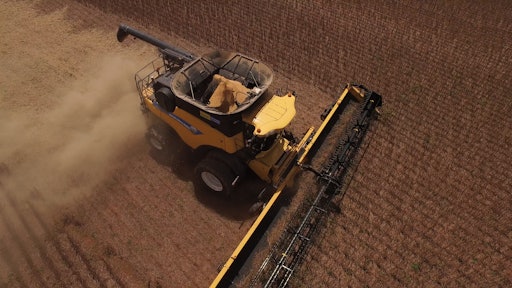 New Holland Agriculture
A new study from Fact.MR forecasts the global combine harvester market will surpass a value of $18,500 million (in U.S. dollars) by 2026. The market is anticipated to achieve a compound annual growth rate (CAGR) of 2.6%.
Asia-Pacific excluding Japan (APEJ) will continue to spearhead the global combine harvesters market in terms of volume, mainly driven by robust foreign direct investments (FDI) into its developing nations such as China and India. FDI has further spurred the agricultural activities in these countries, thereby creating the need for efficient agricultural machinery such as combine harvesters. However, as the cost of new combine harvesters is substantial, many farmers in APEJ are buying used machinery at relatively lower prices which will impact revenue generation of the market.
Larger, more powerful machines to dominate market
The Fact.MR study says 300-450 hp (223.7-335.6 kW) combine harvesters are expected to remain dominant in the global market. Revenues from sales of this power type segment will exceed U.S. $4,900 million by the end of 2026.
Revenues for combine harvesters in the power ranges from below 150 hp (111.9 kW) and 150-300 hp are also expected to remain significant, and collectively estimated to account for roughly half the share of the market by the end of the forecast period.
Sales of above 550 hp (410.1 kW) combine harvesters are forecast to record the fastest expansion through 2026. In addition, sales of 450-550 hp and 150-300 hp combine harvesters will register a parallel rise through 2026.
In terms of value, hydraulic combine harvesters will remain the leading mechanism type segment in the market. Sales of these machines are projected to hold more than half the revenue share of the market during the forecast period. However, sales of hybrid combine harvesters are set to record a comparatively faster expansion than that of hydraulic combine harvesters through 2026.
As farmers aim to become more productive and harvest more crops, combine harvesters with larger grain tanks will capture a large share of the market. Combines with more than a 350 bushel capacity are projected see the the fastest sales growth through 2026, trailed by less than 250 bushel capacity machines.
However, revenues from 250-350 capacity combine harvesters will continue to be relatively larger than all the other grain tank size segments in the market.
New machines with systems such as GPS and telematics, as well as automated solutions will help drive market growth as well to improve the productivity and efficiency of farmers so they can feed a growing world population.