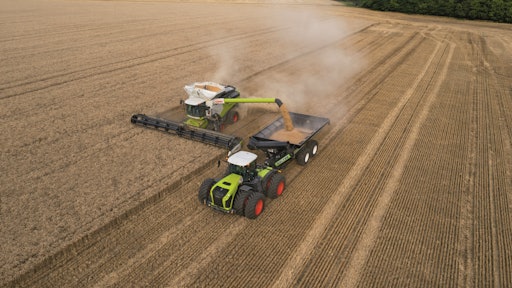 CLAAS
The Association of Equipment Manufacturers' (AEM) latest agriculture tractor and combine report shows an increase in overall sales in 2019.
Total U.S. farm tractor sales grew 3.6% to 244,637 units, while self-propelled combines declined 0.7% to 4,807, a decline of 32 units for the year. December tractor sales climbed 1.1% compared to December of last year while combines fell by 12.3%.
Total U.S. sales of 2-wheel-drive tractors were roughly flat in the month of December rising less than 1% compared to December last year: under 40 hp 2-wheel-drive tractors grew 5.2%, and sales of 40-100 hp tractors fell almost 9%, while sales of 100-plus hp tractors led the segment with 6.4% growth. Total December U.S. 4-wheel drive tractor sales was a highlight with almost 28% sales growth to 322 units.
Read more: AEM U.S. Ag Tractor and Combine Report
All sectors fell in Canada for 2019, with 4-wheel-drive tractors leading the decline falling 37% (from 885 to 570 units sold year-over-year) and self-propelled combine sales falling 19.4% to 1,695 units for the year. Two-wheel-drive tractor Canadian sales in 2019 were helped by the sub-40 hp category (3.6% increase for under 40 hp, 8.2% decrease for 40-100 hp, and 18% decrease for 100-plus hp).
Read more: AEM Canada Ag Tractor and Combine Report
"While growth hit a bump toward the end of the year, ag tractor and combine sales overall for 2019 ended relatively flat," says Curt Blades, Senior Vice President of Ag Services at the AEM. "On top of that, from survey data we gathered along with the Equipment Dealers Association, majorities of both manufacturers and dealers agree inventory levels are sitting about right at the moment, which should put our members and the overall ag sector in a positive place for the near future."