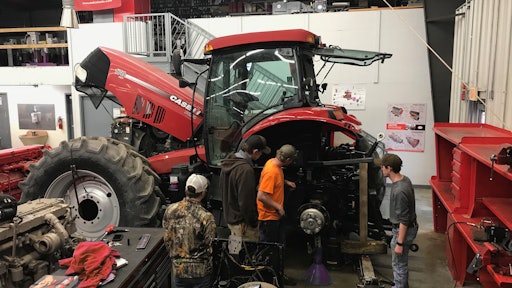 Following school closures and summer breaks, students from three technical colleges will eventually return to classes and continue working with new hands-on learning tools: Case IH tractors.
Case IH donated tractors to three technical schools: Parkland Community College in Champaign, IL; North Dakota State College of Science in Wahpeton, ND; and Lake Area Technical Institute in Watertown, SD. Each received one donated tractor.
The tractors will be used as training aids for diesel technology programs to benefit students' education. Each school that received a donated tractor is partnered with a local Case IH dealer and has a program to train students to repair agriculture equipment. The tractor models that were donated — a Puma 170, Optum 270 and Optum 300 — have a retail value of more than $500,000 in total.
"Programs and partnerships like these are instrumental in helping our dealer network hire excellent technicians," says J.E. Cadle, Case IH Marketing Manager for Maxxum, Puma and Optum tractors. "There is always a demand for technicians, and we are excited to take this opportunity to supply future generations with important firsthand learning opportunities and experience."
Darrel Woolery, agriculture department supervisor at Lake Area Technical Institute, says the Optum 300 tractor they received will be used to teach across multiple programs, and it will serve as a learning tool both in the classroom and in the field.
"A donation like this is huge for our program," Woolery says. "Our students are excited about it, and it serves as a great recruitment tool. Because new equipment is changing rapidly, the more familiar they are with new technology, the better prepared they are."
Case IH dealerships across the country look to valuable partnerships with technical schools to help develop and recruit knowledgeable and reliable technicians.
"Programs like these provide a solid foundation and teach valuable professional skills such as how to work with a team," says Sarah Kenz, talent acquisition specialist at Titan Machinery in West Fargo, ND. "On the dealership side, we're able to provide experiences to help students apply their skills and learnings in a real-world setting."