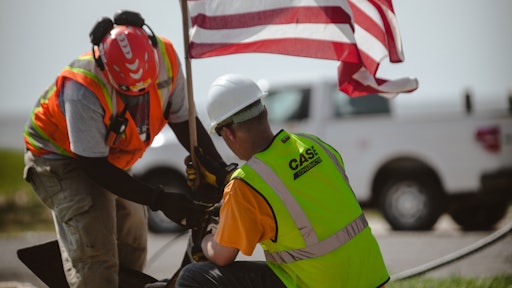 After what seemed like an endless stream of hurricanes, tens of thousands of people are without power, without homes, and without an idea of when their lives may go back to normal. As reports of the extent of the devastation started to roll in, several heavy equipment manufacturers stepped forward to help both financially and with labor and equipment donations.
Hyundai Construction Equipment Americas immediately donated $50,000 to the United Way of Greater Houston. Several Hyundai dealers along the coastal area of Texas had employees that were severely impacted by Hurricane Harvey, so the company encouraged its employees and dealer personnel to collect funds throughout the month of September specifically to provide relief to its affected employees.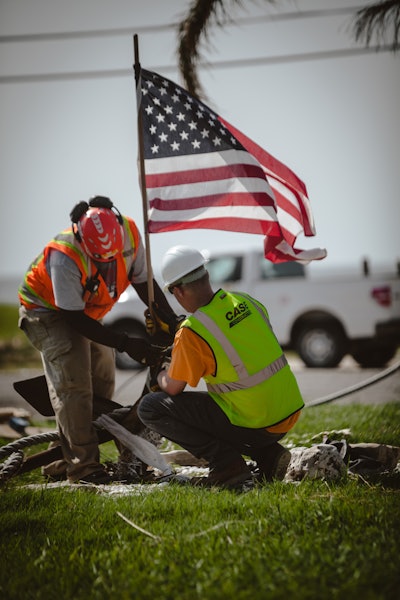 Hyundai Forklift donated a forklift to a Houston-area nonprofit organization to help with cleanup (learn more, 20975017).
Komatsu America Corp. provided a $250,000 cash donation to the American Red Cross to support Hurricane Harvey relief efforts. Between manufacturing and foundry plants, distributors and other support functions, there are more than 1,000 Komatsu-affiliated staff members and their families in the state of Texas alone.
Komatsu America also announced it would match, dollar-for-dollar, all contributions made by Komatsu America Corp. and subsidiary-company employees (read more, 20974395).
 "Speaking on behalf of the Komatsu family of companies, we have been moved by the stories of loss, courage and comradery coming out of the storm-damaged areas in the wake of Hurricane Harvey," said Rod Schrader, CEO of Komatsu America Corp. "We are pleased to support the American Red Cross in their efforts to help families and communities begin the journey towards recovery and rebuilding."
Doosan Bobcat donated over $325,000 worth of Bobcat equipment and Doosan Portable Power light towers and generators to assist with both Hurricane Harvey and Hurricane Irma relief efforts. The company will also provide financial assistance to affected Doosan Bobcat North America dealership employees and their families, and Doosan Bobcat North America employees will direct annual charitable drives toward assisting those impacted by Hurricanes Harvey and Irma (read more, 20975836).
In the days before Hurricane Harvey made landfall in Texas, Doosan Bobcat expedited equipment and attachment deliveries to impacted areas in an effort to be immediately prepared for clean-up efforts. Doosan Bobcat also took steps to expedite equipment deliveries to southern Florida in preparation for Hurricane Irma.
"Doosan Bobcat has been on the scene helping communities recover from natural disasters for more than 50 years," said Rich Goldsbury, President of Doosan Bobcat North America. "We have a ready-response program that ensures Bobcat equipment and other assets are readily available to help out local communities, our dealerships and their employees. Our support and prayers go out to those affected by Hurricane Harvey and Hurricane Irma."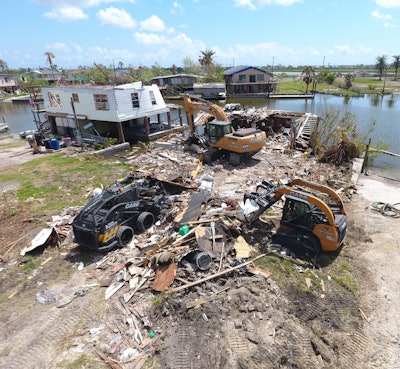 JLG Industries Inc., an Oshkosh Corporation company, delivered more than 60,000 lbs. (27,215.5 kg) of supplies and food to victims of Hurricane Harvey in Texas.
Working with local communities, the company coordinated drives at its Hagerstown, MD, and Bedford, McConnellsburg, and Shippensburg, PA, facilities to support Hurricane Harvey flood victims. More than 100 JLG employees volunteered time to work shifts so members of those communities could make donations of personal care items, food and beverages, baby care products, and other needed items, such as blankets, pillows, flashlights, batteries, games, toys, undergarments, and socks (learn more, 20976914).
"Our thoughts are with those in Texas who have been affected by Hurricane Harvey," says Frank Nerenhausen, Oshkosh Corporation Executive Vice President and President, JLG Industries. "We recognize that many of the people in the communities in which we live and operate want to help. Providing a donation drop-off point locally helped us reach out to impacted families during this challenging time. We are very proud and appreciative of our employees, who have come together in the spirit of our people first culture to support those in need."
In addition to donations made by more than 200 individuals and community organizations, JLG and Jerr-Dan – another brand in the Oshkosh access equipment segment – purchased additional items to fill three tractor trailers bound for the Houston Food Bank, part of Feeding America. Victims of Hurricane Irma are also receiving aid from JLG sister segments in Oshkosh, whose Feeding America donations will be delivered to Florida.
Veteran-led disaster response team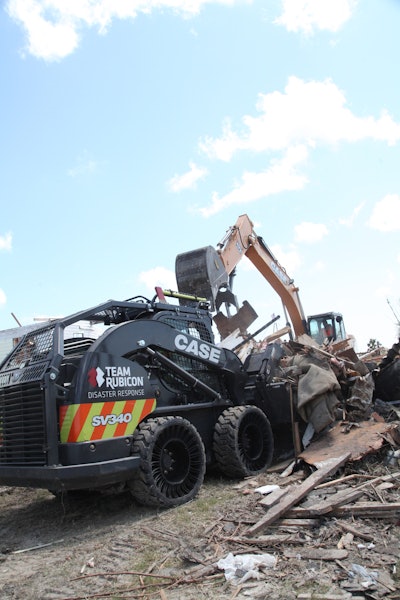 Team Rubicon, a veteran-led disaster response organization formed in 2015, began the heavy equipment operations of "Operation Hard Hustle" on Thursday, September 14, 2017 with equipment and on-site support personnel provided by CASE Construction Equipment. Initial heavy equipment operations included debris removal and home demolition near Rockport and Aransas Pass, TX, where the eye of Hurricane Harvey made landfall in August. Sonsray Machinery, Inc. of California also shipped compact track loaders in for the operation, and Michelin North America, Inc. donated sets of its Tweel airless radial tires to outfit skid steers working in demolition applications.
"This is the most severe disaster the heavy equipment operators at Team Rubicon have been deployed to since the inception of the equipment operation training program in 2015," says Scott Harris, Vice President — North America, CASE Construction Equipment. "What CASE staff saw in Rockport and surrounding areas were communities coming together to lift each other up and rebuild, and Team Rubicon is there at the forefront. It's that sense of community and civic responsibility that drove us, and dealers like Sonsray, to step up and join them in Texas."
"You can't understand the devastation leveled by a hurricane until you're standing at the point where the eye made landfall and see the damage. It disrupts basic services and infrastructure for weeks and potentially months," says John Dotto, Brand Marketing Manager with CASE, who was on the ground with Team Rubicon in Texas. "We're inspired by the spirit and resiliency shown by Texans, and are committed to doing what we can in conjunction with Team Rubicon to start rebuilding the community."
Nueces Power Equipment of Corpus Christi is providing on-ground equipment support to the operation in Rockport.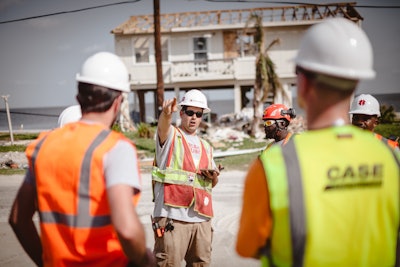 Since Hurricane Harvey made landfall, Team Rubicon has deployed 768 volunteers to Texas in support of the ongoing relief efforts with debris removal, damage assessments, muck outs, expedient home repair and chainsaw operations. Strike teams on the ground have conducted over 5,000 damage assessments and serviced 135 homes to date.
The heavy equipment competency within Team Rubicon was created to train volunteers in the safe operation of equipment to support disaster response operations. CASE has provided ongoing equipment and training support since the beginning of the heavy equipment program in November 2015.
Team Rubicon continues to establish operations throughout Texas and Florida in response to Harvey and Irma, and will deploy additional heavy equipment teams as needed. To donate to Team Rubicon's relief efforts, visit TeamRubiconUSA.org.
Editor's Note: At the time of publication, donations specific to Hurricane Maria had not been announced, but we hope the people of Puerto Rico and other affected areas are also receiving the generous donations and support that the victims of Harvey and Irma did.
To find out how you can help the victims of all of these hurricanes, contact the United Way or Red Cross to see where supplies, food items or monetary donations will be most effective. You can also visit their websites at www.unitedway.org and www.redcross.org.
To help Puerto Rico specifically, the country's first lady has started its own initiative called United for Puerto Rico, www.unitedforpuertorico.com.